AmazonBasics Pre-Seasoned Cast Iron Camp Dutch Oven
The AmazonBasics Pre-Seasoned Cast Iron Camp Dutch Oven 6-Quart has been available for purchase since March 2018. In this short time, positive reviews are already pouring in.
Cast Iron is a material that has been used to cook with for centuries. The oil-seasoned surface does not release any harmful toxins during the cooking process. The seasoning also provides a non-stick cooking surface.
Cast iron camp ovens have legs and are generally used in the great outdoors on hot coals or an open flame. You can also use them at home over the same heat sources as well as those in your kitchen. So if you have one or have decided to purchase an oven don't just store it away utilize it all the time.
In this in-depth article, I will share the great features of this camp oven, and give you a full review of the oven. Check out the pros and cons if there are any. Lastly, the roundup of this new cast iron dutch camp oven.
Disclaimer: As an Amazon Associate I earn from qualifying purchases on my website. If you make a purchase through links from this website, I may get a small share of the sale from Amazon and other similar affiliate programs.
AmazonBasics Dutch Oven Review
The Features of this Camp Dutch Oven
6-Quart Cast-iron cookware

Pre-seasoned and ready to use

User-friendly handle(s) for easy lifting and transport

Use camping, a beach bonfire, and in a home kitchen

Oven-safe to 400 degrees F

Hand wash only

AmazonBasics limited 1-year warranty
If you have landed on this page and know that you already want to purchase the AmazonBasics Pre-Seasoned Cast Iron Camp Dutch Oven 6-Quart. CLICK HERE to see it for yourself.
The Oven
This pre-seasoned cast iron Dutch oven is round in shape and has a 6-quart capacity which will easily provide a meal for six hungry mouths. The oven has a loop-carrying handle for easy lifting and hanging over a fire.
The Dutch oven has 2-inch sturdy legs to use over hot coals without crushing them, or over a campfire.
The heavy tight-fitting lid of this oven can also be used as a griddle just by flipping it over. The loop handle on the lid is also a generous size.
This oven's dimensions are 14 inches x 13.2 inches x 8 inches and the weight is 16.75 pounds, a very sturdy Dutch oven.
Do you think you need a larger camp oven? Click here… to go over and check out my full review of a larger cast iron camp Dutch oven.
Cooking With The Oven
Even though it is pre-seasoned before you use this Dutch oven for the first time rinse it in hot water and dry it thoroughly.
When cooking start by using medium heat and apply a small amount of oil to the cookware's cooking surface before each use. This will help keep the seasoning intact to protect the oven as well as keep a nonstick surface in place.
Remember no metal use heat-resistant silicone, plastic, or wooden utensils only.
The thick base and walls of cast iron provide quick heat and the heavy lid gives you great heat retention and helps seal in the moisture. You will then be able to bake, boil, braise, stew, roast a much more.
Dutch ovens are great for one-pot meals like soup, stew, chili, chowder, or beans and rice. As well as baking bread and cakes. Preparing pot roasts and desserts, anything you can think of you can cook in a cast-iron Dutch oven.
Don't forget to flip the lid over and use it as a griddle. Fry eggs, bacon or flapjacks, and pancakes. You can even make scones while cooking up a storm in the oven.
Where Can You Use This Dutch Oven
This cast-iron Dutch oven can be used over more heat sources than just hot coals or flames. It can be used on a stovetop, barbecue, under a broiler, or even in a conventional oven.
You will have to take the legs into consideration when using them in the oven, but it can be done. When choosing your heat source just be mindful of the surface you are using as scratching may occur.
Lifting the oven straight up and not pulling it across surfaces should protect both the oven and the cooking surface.
Safety
If you cannot lift this Dutch oven fully laden when cold please do not try to lift it when hot, enlist some help.
It doesn't matter which heat source you use remember that all the handles will be hot. Remember to use oven mitts and lid lifters.
Care, Cleaning, and Maintenence
You should avoid using metal on your cast iron cookware. The reason for this is that you will compromise the seasoning by scratching it. You will then have to season the cast iron to avoid rust.
Using scrapers, egg flips and other utensils made from silicon, plastic or wood is the best choice.
After cooking, clean the cookware using a stiff brush and hot water, then rinse and towel dry. To remove stuck-on food, boil water in the cookware for a few minutes to loosen residue, then rinse and towel dry.
As this cookware is pre-seasoned cast iron, unfortunately, it is not dishwasher-safe.
To clean, hand wash only in warm to hot water. Towel dry immediately and apply a light coat of oil to the cooking surface while the cookware is still warm (to prevent rusting).
To protect cast iron cookware you should not put cold water into the hot cookware, use soap and harsh cleaning detergents or let it air dry.
The Pros and Cons
Pros
Long legs that do not crush the hot coals

Great price for a good-sized cast iron camp oven.

AmazonBasics limited 1-year warranty
Cons
It cannot be cleaned in a dishwasher – to be hand-washed only, unfortunately. This shouldn't be a problem cause I don't see many dishwashers while I'm camping 🙂
Frequently Asked Questions
Lodge Camp Dutch Oven Sizes
I have a full article with an awesome list of camp Dutch oven sizes just go here.
Best Size Dutch Oven for Camping
Just for you another one of my articles helps you choose the best camp Dutch oven for your requirements. Just go here.
Lodge 6 Quart Cast Iron Dutch Oven
If a Lodge Dutch oven is more your style and you are happy with the 6-Quart size in a camp Dutch oven click here to see my article on the Lodge equivalent of the AmazonBasic camp oven.
AmazonBasics Pre-Seasoned Cast Iron Camp Dutch Oven 6-Quart
If you are just starting your camping adventures and you are not sure if it is something you are going to like you will love the price of this camp oven.
Or maybe you have camped before borrowed camp gear and are now starting to build up your own camp equipment.
Either way for a good quality sturdy cast iron camp Dutch oven which is priced at around $50.00 you can't go wrong.
Want to check out the AmazonBasics Pre-Seasoned Cast Iron Camp Dutch Oven 6-Quart for yourself? CLICK HERE to see it, the price, and further reviews for yourself.
If you are not convinced that this camp Dutch oven is the one for you click here to see my great article on the Camp Chef 12-Quart Dutch oven. It is a lot bigger and maybe the one for you.
Happy Camp Cooking 🙂
One-Pot Cooking Rocks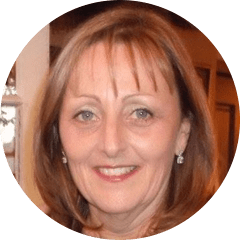 Michelle – Author
Hi, I'm Michelle the founder, owner, author, and editor of OvenSpot. My passion for one-pot cooking commenced when I was working to prepare cafeteria lunches for school students. I am now on a mission to assist you in choosing the cooking pot or appliance you will use every day. As well as in-depth information to assist you in using and caring for your cookware and appliances.
Questions? Reach out to Michelle at [email protected]