Camp Chef DO-14 Pre-Seasoned Deluxe 12-Quart 14 inch Dutch Oven
In this Camp Chef Dutch oven review, we will look at the Camp Chef DO-14 Pre-Seasoned Deluxe 12-Quart 14-inch Dutch Oven.
This full Dutch oven review will cover all the best features of the oven, as well as some of its uses. You will also see any of the pros and cons of this Camp Chef Dutch oven.
Disclaimer: As an Amazon Associate I earn from qualifying purchases on my website. If you make a purchase through links from this website, I may get a small share of the sale from Amazon and other similar affiliate programs.
What Is a Dutch Oven?
Cast iron Dutch ovens are known the world over for making hearty delicious meals.
Especially when camping we are relaxed and hungry from all that fresh air. There is nothing better than preparing slow-cooked meals in the great outdoors. Everything from oats, eggs, bacon, and pancakes for breakfast.
Followed by stews, casseroles, soup, biscuits, scones, or bread for lunch. Dinner could consist of roasted meats with fresh vegetables afterward on to your favorite dessert or maybe just popped corn for a campfire snack.
The added bonus with the Camp Chef DO-14 Pre-Seasoned Deluxe 12-Quart 14″ Dutch Oven is that you have two cooking appliances to work with. This alone makes your camp cooking experience a lot easier as you can use both pieces to cook up a storm.
If you are just looking to buy check out the Camp Chef DO-14 Pre-Seasoned Deluxe 12-Quart 14-inch Dutch Oven at Amazon.
If you are staying with me for the full review let's get started…
Camp Chef Pre-Seasoned 12-Quart Dutch Oven
The Features
True Seasoned Finish cast iron Dutch oven

A lid with legs can be used as a skillet/griddle

Built-in thermometer notch

Dutch Oven Lid Lifter

Convenient loop handle on the lid

Seasoned Cast Iron is ready to cook and easy to maintain

A deep dish lid increases airflow for even cooking

Thermometer Channel to check the temperature without removing the lid

Includes Dutch Oven starter booklet with seasoning tips

Grand Canyon National Park Commemorative Edition
The Review
When you unpack your new Camp Chef deluxe 12-quart Dutch oven you will not be disappointed with the pre-seasoned cast iron finish. Which is smooth and free of any imperfections.
This seasoned cast iron Dutch oven is ready to cook when you are. Although, I would give it my own quick pre-season with my preferred oil before the first use.
This Camp Chef Dutch oven has a lid with legs. What this means is that you can turn the lid over and it can be used as a skillet or griddle directly on the campfire.
You can also turn it over and use the lid in the same way as a double Dutch oven. Use the steam from the pot below to heat the lid and prepare more food within the lid.
The way the deep dish lid has been designed to increase airflow for even cooking. The lid can also double as a skillet or a serving trivet.
The lid of the Camp Chef DO-14 has an innovative thermometer channel. This built-in thermometer notch is used to check the temperature within the Dutch oven without removing the lid.
In the center of the lid, there is a loop handle. When the cast iron is hot it can be lifted safely with the Dutch oven lid lifter. This lifter is included when purchasing this cast-iron Dutch oven.
This Dutch oven is easy to maintain. Check out "How to clean a Dutch oven after cooking" if you need a refresher.
To complete the package this commemorative edition features a beautiful scene from Grand Canyon National Park.
The Dimensions of this Camp Oven! Also, how many people does this 12-quart Dutch oven feed?
Lid Volume: 2 3/4 Quart

Lid Depth: 1 7/8 inches

Base Volume: 9 1/8 Quart

Base Depth: 5 inches

Base Inside Diameter: 13 inches

Base Outside Diameter: 13 3/4 inches

Weight: 28 pounds

Serves: 16-20 people
My Camp Chef – Grand Canyon Commemorative cast iron Dutch oven…
What can I Cook in this Dutch oven?
In this large deluxe 11 7/8 quart, 14-inch Dutch oven you will be able to prepare one-pot roasts with large 5-pound cuts of meat. As well approximately 3 pounds of vegetables such as potatoes, carrots, and onions will fit in with a 5-pound piece of meat.
Stews, casseroles, and soups for sixteen to twenty people, depending upon portion sizes, can be prepared in this large Dutch oven.
Prepare vegetables in the cast-iron Dutch oven while your meat, chicken, or fish barbeques are in the skillet.
When you flip the lid over and use it as a skillet you can prepare anything your heart desires. I'll give you some suggestions here…
cook eggs, bacon, sausages, or pancakes

sear or grill your meat, fried onions

bake rolls, scones

fruit cobbler
Pros and Cons – Camp Chef 12-Quart Dutch Oven
| Pros | Cons |
| --- | --- |
| Thermometer channel to check the temperature without removing the lid. | The loop handle on the lid is a little small to lift with a mitted hand so you would have to use a lid lifter. |
| Lid with built-in legs so it can be used as a true skillet or griddle. | |
| International Shipping is available and this item can be shipped to select countries outside of the U.S. | |
Check out my article that deep dives into the only accessories you actually need when using Dutch ovens.
Cast-Iron Care and Maintenance
Although most cast iron comes out of the factory pre-seasoned these days, re-seasoning new cast iron is always helpful in protecting the iron and combating rust.
My article is a must-read about why and how you should season new cast iron.
FAQs
What is a good Dutch oven brownie recipe?
This is the easiest brownie Dutch oven recipe for camping you will find.
What is a Lewis and Clark Commemorative Dutch Oven
A Lewis & Clark commemorative 8-Quart camp Dutch oven made by Lodge. It comes pre-seasoned with Lodge's own formula, a cookbook, is embossed to commemorate Lewis & Clark, as well as a lifetime warranty, which comes with the usual Brand trust.
If you have any interest in this celebration Dutch oven you need to check it out for yourself at Amazon.
How many coals do I need for a 12-inch Dutch oven?
Between 4 and 32 depending on whether you are roasting, frying, baking, or stewing.
Dutch Oven Temperature and Briquette or Coal Placement (Printable Download )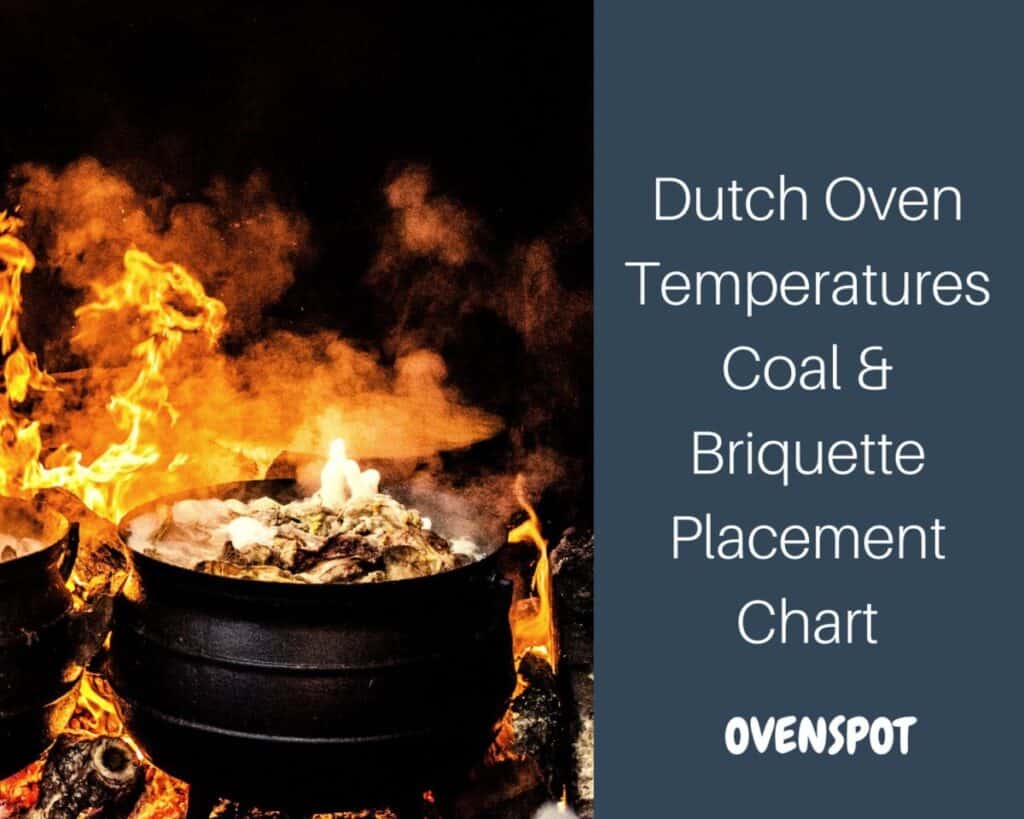 Use this awesome guide to Dutch oven temperatures that gives you the number of coals or briquettes and where you should place them.
To Finish – Camp Chef 12-Quart Dutch Oven
I love the thermometer channel which alleviates the need to remove the lid to check that the Dutch oven is hot enough.
The safety value of this feature alone is worth buying this Dutch oven ten times over.
We use our double Dutch oven religiously but I do not have legs on the lid of my camping Dutch oven.
So to have a lid with built-in legs so it can be used as a true skillet or griddle makes this package so versatile.
Update I now have the Camp Chef – Grand Canyon Commemorative cast iron Dutch oven pictured above…
If you are going camping I think you would be very happy if you purchased this camp Dutch oven.
It is a quality product with some features that Dutch ovens at twice the price do not have. Why not click the link below to check out the product and the reviews, I am sure you will be glad you did.
See reviews and the latest price for the Camp Chef DO-14 Pre-Seasoned Camp Dutch Oven at Amazon.
If you have decided that this camp oven is not for you because it is way too big.

Why not check out my articles on the Lodge 6-Quart Camp Dutch oven or the AmazonBasic 6-Quart cast iron camp Dutch.

Great read that sees these two top brands Camp Chef and Lodge go head to head.
Want to check out the latest information about Dutch ovens and their brands? See them here at the best Dutch ovens available in 2023.
One-Pot Cooking Rocks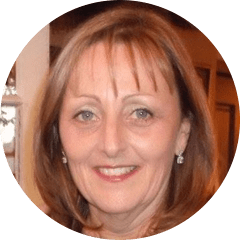 Michelle – Author
Hi, I'm Michelle the founder, owner, author, and editor of OvenSpot. My passion for one-pot cooking commenced when I was working to prepare cafeteria lunches for school students. I am now on a mission to assist you in choosing the cooking pot or appliance you will use every day. As well as in-depth information to assist you in using and caring for your cookware and appliances.
Questions? Reach out to Michelle at [email protected]