8 Best Cast Iron Handle Covers: Complete Guide 2024
Versatile, long-lasting, and practically indestructible, the cast-iron skillets are an invention that's thousands of years old. These heavy-duty cooking utensils are usually forged from a single piece of forged iron and are so good at distributing heat that they can be used anywhere, from the kitchen to the campfire.
The best cast iron handle covers are made from leather or highly heat-resistant material. They should be long enough to protect the forearms from potential burns. I recommend the Lancaster Leather Cast Iron Handle Cover, Lodge Silicone Hot Cast Iron Skillet Handle Holder, and Le Creuset Silicone Hand Sleeve.
Cast iron conducts heat so well that handling it without a cast iron pan handle cover can result in some very nasty burns! I've used some of the best, from the functional to the flashy.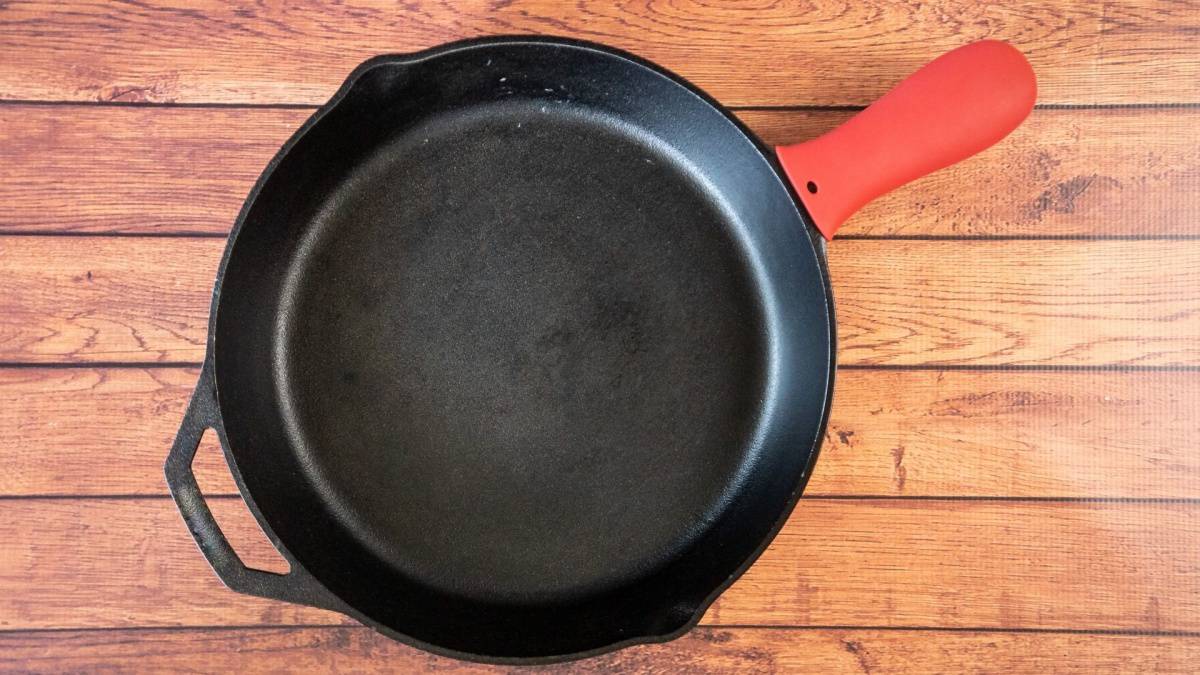 Disclaimer: I earn from qualifying purchases on my website as an Amazon Associate. If you purchase through links from this website, I may get a small share of the sale from Amazon and other similar affiliate programs.
Best Handle Covers for Cast Irons Skillets
My favorite cast iron pan handle cover is my Lancaster leather pan handle cover and my Lodge silicone cast iron skillet pan handle and helper handle cover.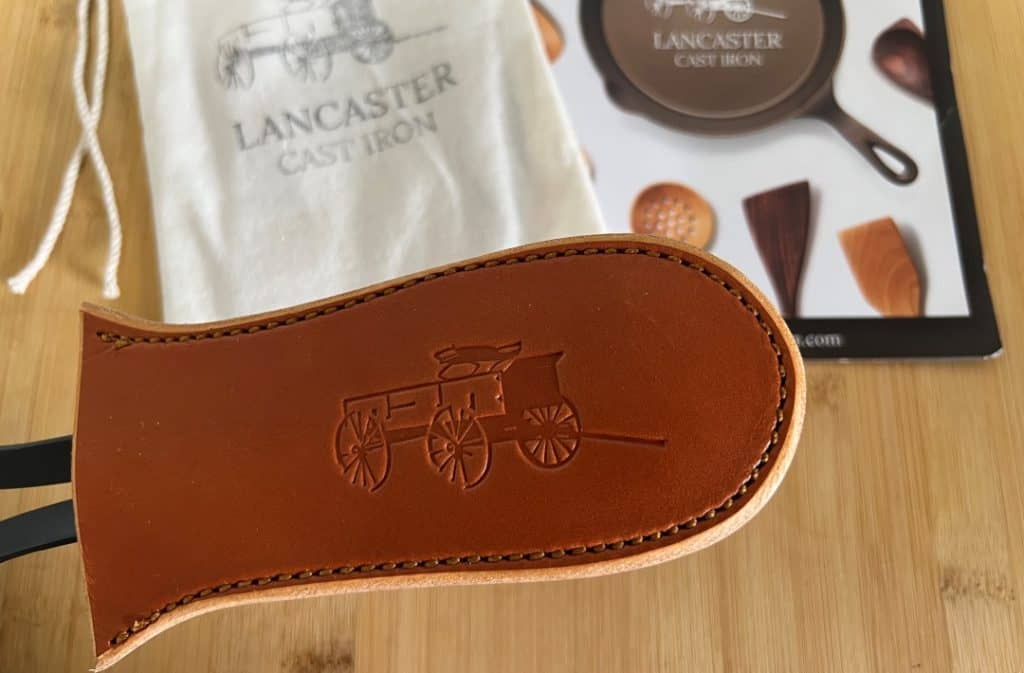 The 7 Best Cast Iron Handle Covers
So, let's get to it! Here is a selection of the covers we think are perfect for the job, and I've given you a selection depending on the kinds of preferences people may have.
#1 Naturally Pliable: Leather Skillet Handle Cover from Lancaster Cast Iron
The Lancaster leather handle cover features the Lancaster wagon logo and is extra thick for maximum protection. According to the owners of Lancaster Cast Iron, it's made of a beautiful, light, full-grain leather that softens with use.
Along with the Lancaster skillet, as displayed in the image above, I use it on my Solidteknics Iron Skillet; it also easily fits onto the handle of my Lodge skillet. It's easy to grip so that you can keep a firm hold. Plus, it's heat resistant, so you don't have to worry about getting too hot to "handle."
So whether you're using it at home or taking it on the go, you can rest assured that your hands will be protected. Best of all, it's made from premium American leather in the USA using Pennsylvania leather! So you can feel good about supporting American businesses. Remember, they make a great gift, so keep that in mind!
# 2 Brand: Lodge Silicone Hot Cast Iron Skillet Handle Holder
Lodge Cast Iron understands how hot cast iron gets and how to keep its cookware users' hands safe from high temperatures.
Iconic cast iron manufacturing company Lodge supports its made-in-the-USA cast iron skillets and other cookware by making Lodge branded heavy fit over lodge handles and helper handles available.
The designs of the covers are constantly updated, protect hands from longer handles, and the helper handle heats up to 500°F. A bonus of easy clean dishwasher safe material.
Learn more about the iconic American brand Lodge Manufacturing in this article, Lodge Seasoned and Enamel Cast Iron Review.
#3 The Tried and Tested: Amazon Basics Silicone Hot Skillet Handle Cover Holder
The reviews speak for themselves on this handle cover! Over 27,000 happy customers have given this red handle cover the thumbs up, and for plenty of good reasons. The price is excellent, the material is durable, and these covers have been a staple in many a kitchen for several years.
Not everyone will find them to their taste, though, as these covers won't fit every skillet, so be sure to check the dimensions of your panhandle to see that these covers will be right for your needs.
However, they're of excellent quality for the price, and they're especially popular because they're easily cleaned and are even dishwasher-proof. This is great news because cooking inevitably involves grease splashes; over time, your handle cover can look grubby and harbor germs.
Inexpensive, easy to use, and easy to clean, these pot holders are an excellent addition to your cast iron accessory drawer!
#4 For those Nights of Entertaining: 8 Pieces Silicone Hot Handle Holder Non-Slip Pot Holders Cover
What we love about this item is that it's a complete set of 8 pieces, which are enough to protect your hands from four different hot pans, which will come in handy for the nights that you're entertaining guests or preparing a meal that requires you to have several pans on the go at one time.
The pack contains four pan holder covers and four assist handle holders. We often think we only need to protect our hands from the handle itself, but many heavy cast iron skillets also have a handle assist at the opposite end, and this pack of pot holders includes protection for both!
They're made from dishwasher-safe silicon once again, but it should be noted that people have remarked on how they don't protect from the heat for a very long time, so be aware that these covers are for use when transferring pans only and not to hold the pan for any length of time.
#5 When Only the Best is Good Enough Le Creuset Silicone Hand Sleeve, 5 ¾" x 2", Black
See Le Creuset Silicone Cast Iron Handle Cover (Amazon)
Le Creuset is probably the ultimate name in luxury cast iron kitchenware, so there's every reason to want the best hot pan covers if you have the best skillet.
It'll probably come as no surprise that this handle cover has the kind of price tag to go along with the Le Creuset brand. The design won't let you down as the extra grip textured exterior provides not only a more comfortable experience but a safer one, too. It's easy to clean and, once again, dishwasher safe.
It's thicker than the cheaper options, so it means less chance of heat getting through the cover and burning your hand, and even those who put it into the oven with the pan by mistake have reported no melting, so it's certainly durable!
It won't fit every pan, so check your handle's dimensions before committing to this relatively pricy product.
#6 Versatile and Machine Washable Evoio Hot Handle Holder, Non-Slip Machine Washable Sleeves
Not everyone likes to use silicone, and there's always the chance that once you've bought a tight-fitting silicone cover for one pan, it won't be good for another sized handle.
With a heat-resistant fabric handle cover, though, you'll find that you can use one size on a variety of different handles.
These sleeves are surprisingly durable, considering they're soft, like an oven glove, only for a skillet. They can protect hands from temperatures up to 450 degrees Fahrenheit, and splashes and spills are no issue because they can be put into the washing machine along with your other soft items, such as towels.
The price for a set of 4 is very reasonable, and the designs brighten up the kitchen without looking tacky.
#7 For the Finest of Chefs who Love a Touch of Luxury – Hide; Drink, Rustic Leather Hot Handle Holders (Set of 3)
So, not everyone likes to shop on a budget, and we support a bit of luxury, especially in the kitchen! We're not sure they will be everyone's first choice, but we loved these rustic leather handle covers.
They've been handcrafted to the finest detail, using double-layered leather with a staggering 101-year guarantee! You can be sure your hands will be protected for the rest of your life.
The three items in a pack will only work on one pan as they all serve a different part: the handle, the assist grip, and even a sidekick holder for extra security. They're beautifully finished, heat resistant, and will raise the aesthetic of your culinary world tenfold.
They'll make a beautiful gift for the family's chef, too, although it should be noted that they can only be wiped clean instead of being put in the dishwasher or the washing machine.
#8 Chefs who Require Heavy Duty – All-Clad Textiles Grip Cookware Grip Set
All-Clad is a well-known and trusted brand for quality cookware. The Textiles Grip Cookware Set has a resistant cast iron skillet handle cover and pot holder grip.
All-Clad grip set supports safety when using extremely hot cookware pieces by supplying the handle cover and the handle helper or (potholder grip).
The Textiles Grip set is made with heat-resistant silicone, so it can safely be used on pots and pans of up to 500℉ (260℃). These silicone covers are considered food-safe, bleach-resistant, and dishwasher-safe.
Look no further if you're looking for a safe and reliable way to grip your cookware. The flexible silicone easily grips most cookware handles and lids, making it a great addition to any kitchen.
Check out my article covering all Cast Iron Cookware Made in the USA brands.
Why Do I Need Cast Iron Handle Covers?
Cast iron pans conduct heat well because they're made from a single piece of iron, carefully molded and crafted into the skillet shape we know and love. However, heat conducts throughout the pan, including the edges, because they're one large piece of metal.
This is a good thing because it means you can put your cast iron skillet into the oven without worrying about handles melting, as they would if they were made from plastic or rubber.
However, your cast iron handle will get just as red hot as the rest of the pan. So rather than taking risks, you should always protect the handle with a cast iron handle cover, as oven mitts alone will not protect your hands from hot skillets.
What Kind of Cast Iron Handle Should I Buy?
A lot depends on your budget. For many, their cast-iron skillet is the best thing about their kitchen, so they love buying the handle covers that complement their favorite pan.
Others are just as happy wrapping a dry dishcloth or the corner of their apron around the pan, so they won't want to spend much, if anything, on a cast iron pot holder.
Rather than relying on towels that could slip off or be too thin to shield the heat from your hands, you should always put safety first and invest in some covers. And here's what we think you should consider.
Make Sure They're Durable
Whether you choose silicone, fabric, or even leather cast iron handle cover, the most important factor is that it does the job. If aesthetics aren't important, you might plump for a hard-wearing silicone cover.
What's important is that it stops you from burning your hands, so all the designer covers in the world are no good if they don't protect you from burns.
Make Sure They Fit Properly
If they're too loose, your handle covers can slip off, and you'll be no better off than before. If they're too small, then they can split and no longer give you the protection you wanted in the first place. Be sure to buy the right kind of cover for your handle.
Remember: Handle Covers Should Not Be Left On!
A handle cover protects your hands when removing piping hot cast iron pans and skillets from the oven or a barbecue or off the hob when the whole pan is hot, including the handle.
A handle cover should be applied to the handle; once you remove the pan from the heat source, remove the handle cover again. These covers are not meant to be left on the pan for long periods because, eventually, they will become damaged and may even melt.
It means the covers shouldn't be on the handles when cooking, especially not over a naked flame or when the pan is in the oven! These handles protect your hands when moving the pan but aren't there to be a permanent fixture to the handle.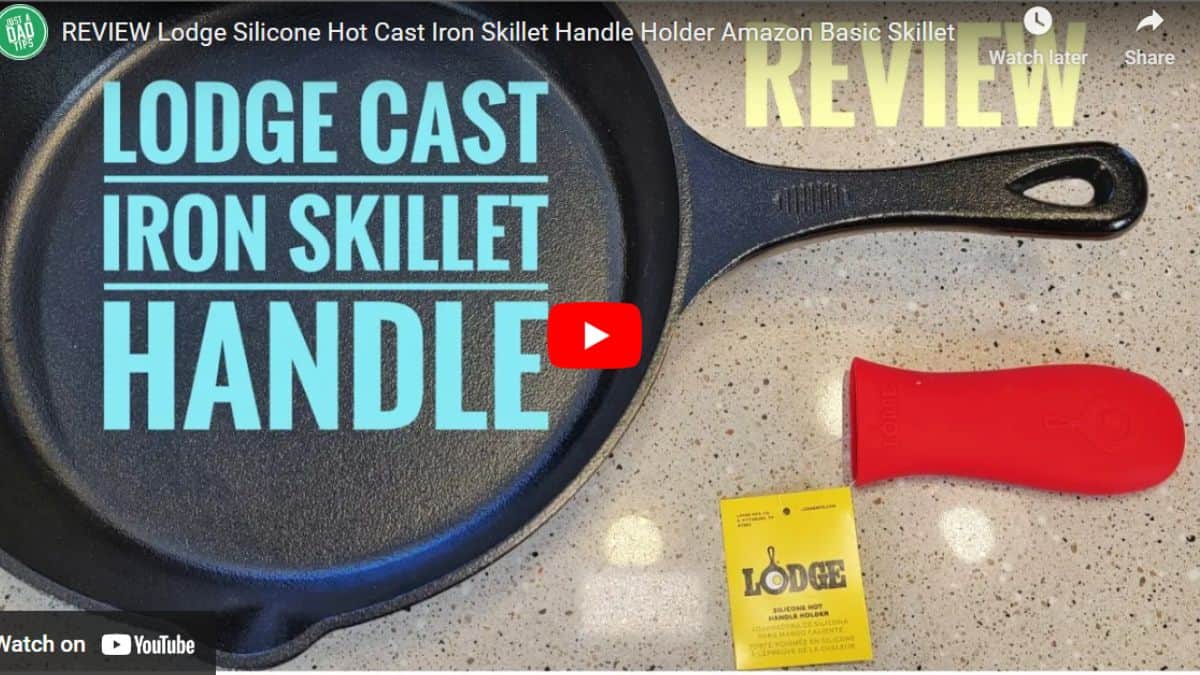 Finally, Which Cast Iron Handle Covers Should You Choose?
I have explained why a cast iron handle cover is a necessary kitchen accessory in this article. I have also given you a variety of different options to choose from, including leather, silicon, and fabric.
I use leather Lancaster covers and Lodge silicone pan covers.
I hope you found this post helpful and now have all the information you need to make an informed purchase! Buying a handle cover is a small investment that can make your cooking experience much safer and more comfortable when cooking up a storm!
One-Pot Cooking Rocks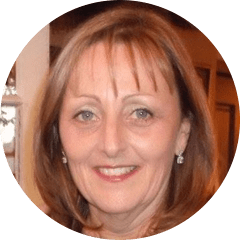 Michelle
Hi, I'm Michelle, the founder, owner, author, and editor of OvenSpot. My passion for one-pot cooking commenced when I was working to prepare cafeteria lunches for school students. I am now on a mission to assist you in choosing the cooking pot or appliance you will use daily. As well as in-depth information to assist you in using and caring for your cookware and appliances.
Questions? Reach out to Michelle at [email protected]