Can You Microwave To Go Boxes: What You Need to Know
We all want to avoid getting a dish dirty when we can, but is reheating takeaway in its box a stretch? More specifically, can you put a to-go, box in the microwave?
Single-use plastic containers, which are used for to-go packaging, aren't microwave-safe. As for Chinese takeout containers, they're microwave-safe as long as you remove the metal handles. Always check your takeaway box for the microwave-friendly label.
Still, what are the risks of putting takeout boxes in the microwave? What would be a safer alternative, and how do you check a container for microwave safety? Keep reading to find out.
Putting a To Go (Takeaway) Box in the Microwave
Single-use or disposable food containers are made of polystyrene or styrofoam (PS). Like other plastics, they may contain bisphenol A (BPA) and phthalates. While these chemicals give plastic flexibility and durability, they aren't as beneficial for humans.
According to Melissa Bailey, a registered dietitian and founder of the Nourished Fork, microwaving a single-use plastic container or disposable containers may cause chemicals to seep into the food inside the box. This happens because heat exposure can trigger a reaction between the container's plastic and food.
The chemicals that contaminate the food may pose various health concerns, from hormonal imbalance, diabetes, obesity, and harm to the reproductive system.
But what about Chinese takeout containers? What makes them different is that they're cardboard boxes, which are usually made of paper, a microwave-safe material.
However, you shouldn't put your cardboard container in the microwave if it has flammable materials such as:
Glue – Glue breaks down, becomes less effective, and causes burns.
Metal –  This material causes damage to your microwave in the long term.
Ink –  Ink can leach into your food, which has health risks.
Wax – It emits toxic fumes that melt a bit or get mixed with the food.
Plastic –  Plastic also emits toxic fumes that melt a bit or get mixed with the food.
Tip: If your cardboard container has external metal parts or handles, you can make it microwave-safe by removing them.
Checking for Microwave Safety
Most food containers have markers for microwave safety. According to the U.S. Food & Drug Administration (FDA), "you should not use some plastic containers because heated food can cause them to melt. The FDA recommends using glass, ceramic, and plastic containers labeled for microwave oven use."
FDA spokesperson Michael Herndon says that "[no] studies have shown short or long-term health consequences from heating microwave-safe plastics." But which food-grade labels indicate microwave safety in a container?
An embossed "Microwave-Safe" on the bottom of the container
An embossed "For Microwave Use" on the bottom of the container
Two or three squiggly lines
A microwave icon with two or three squiggly lines
Otherwise, if you find the squiggly lines enclosed on a circle with a slash or Ø, you shouldn't use the container in the microwave, as its plastic could melt.
How to Microwave Takeaway Safely
Here's a list of containers you can use to reheat your takeaway.
Microwave-Safe Cookware
Your best bet is cookware designed for microwave use, whether they're glass, ceramic, plastic, or plastic wrap containers or containers with a waxy finish.
Don't think about the extra dish in the sink, it's worth the extra work for your health and safety. Empty the food from your takeout box, put it in a microwave-safe container, and then microwave food.
Chinese Takeout Containers
If your Chinese takeaway box is microwave-safe, it's easy to reheat your food. Put the box in the microwave, and place a small cup of water beside it. This way, the heat exposure won't dry out your food. Set the timer for around 45 to 90 seconds, depending on how hot you want your meal.
Paper Goods
You can use paper plates and paper towels in the microwave. After all, wax paper, parchment paper, and paper towels are microwave-safe. However, avoid wrapping food in newspapers because its ink is unsanitary. Also, brown paper bags aren't microwave-friendly because they can't withstand heat, might catch fire, and will poison your food with toxic fumes and germs.
What Materials Not to Put in a Microwave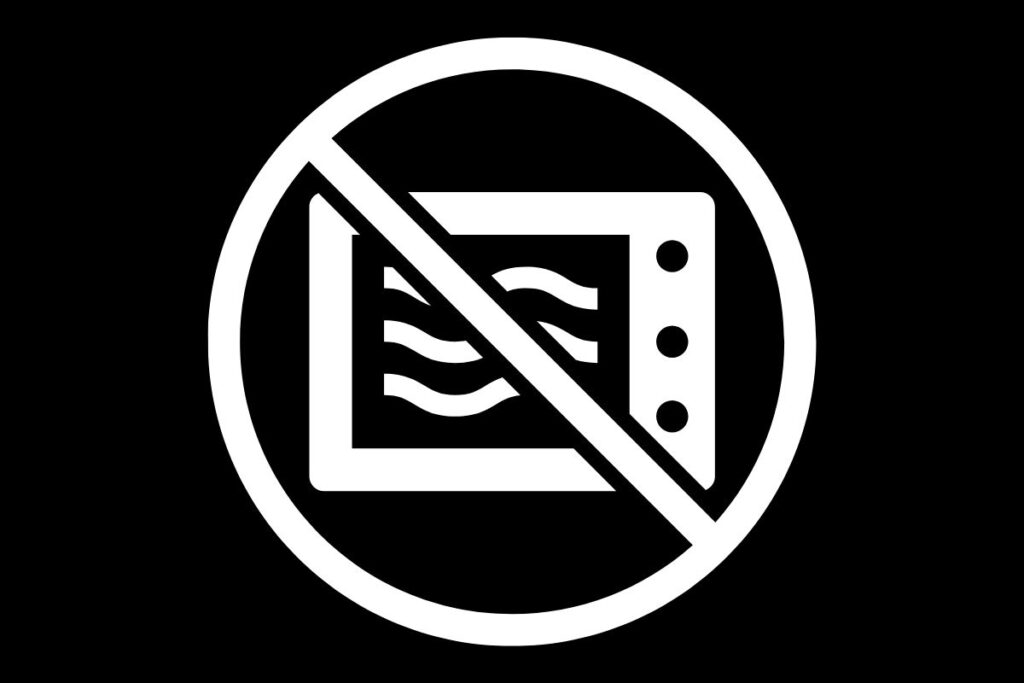 These appliances are an incredibly convenient way to heat food quickly and safely, but there are certain materials we should avoid microwaving.
Metal or Stainless Steel
Metal and stainless steel can cause sparks if exposed to the strong magnetic field of a microwave. If this happens, it could damage your appliance and potentially start a fire.
Tip: Check all "microwave-safe containers" for a sneaky hidden metallic or metal rim before heating foods.
Aluminum Foil
Foil can cause sparks, so it too should never be placed in a microwave.
Styrofoam Takeout Boxes
Styrofoam containers are made of polystyrene which can be damaged by the heat from a microwave. If you put it in, it will release toxic fumes and potentially start a fire.
Single Use Plastic Containers
Plastic containers that are not specifically marked as "microwave safe" can melt and release harmful toxins into your food.
Plastic Bags
Some plastic bags and ziplock bags along with their seals are not suitable for microwaving as they may contain additives that could melt or leach into your food.
Paper Boxes
Not all paper products are safe for the microwave so ensure they clearly have a microwave-safe label. They could release potentially harmful chemicals into leftover foods.
Glass
While some microwaves are designed to be used with glass dishes, they must be specifically marked as "microwave safe" otherwise they should not be placed in the appliance.
Be sure to always read the labels of any container before placing it in the microwave and never leave the appliance unattended while it's in use. Following these guidelines will ensure that you safely enjoy your food each time you heat it up.
For more information on microwaves and their use, visit the internationally renowned brand Whirlpool.
The Plastic Container
Although plastic containers are often used for keeping food, they should not be placed in the microwave as we have discussed. Instead of using a plastic container in the microwave, there are many other uses for these handy containers.
Plastic containers can be used to store food in the pantry or refrigerator. Plastic containers keep food fresh and safe from contamination as they prevent air from entering the container. They can also be used to store leftovers or snacks on the go, like sandwiches and fruit.
FAQs
Quick answers to some common questions asked about microwaves and takeaway packaging.
How do I know if my go box is microwave safe?
The base of restaurant to go containers will have a symbol that resembles wavy lines. An unsafe container will not refer to microwaves or more recently wavy lines with a cross or line through it.
Can you microwave Styrofoam Togo boxes?
You can microwave styrofoam to-go containers if the microwave-safe symbol is on the containers. I would keep these containers for transporting food and consider other containers for reheating food.
What is the safest container to microwave food in?
Ceramic, glass then containers marked with the microwave-safe label.
Final Thoughts
The answer to "can you put a to-go box in the microwave?" isn't clear-cut. Most takeaway boxes are disposable plastics. They contain bisphenol A (BPA) and phthalates for increased flexibility and durability. Unfortunately, these chemicals can react with and leach into your food when exposed to heat, possibly causing hormonal imbalances, diabetes, and more.
So, which containers should you use? Chinese food containers are typically made of cardboard (paper), which deems them microwave-safe as long as they don't contain other unsafe materials. You can opt for other paper goods, including paper plates and paper towels. Finally, cookware labeled for microwave ovens is your best option.
Pro-tip: Avoid heating foods in to-go containers and invest in a good-quality glass container with a fitted lid. If choosing a microwave-safe container go glass marked microwave-safe to microwave food is the best choice.
One-Pot Cooking Rocks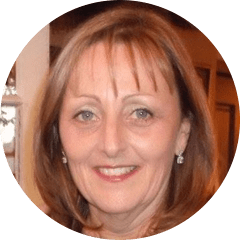 Michelle
Hi, I'm Michelle, the founder, owner, author, and editor of OvenSpot. My passion for one-pot cooking commenced when I was working to prepare cafeteria lunches for school students. I am now on a mission to assist you in choosing the cooking pot or appliance you will use daily. As well as in-depth information to assist you in using and caring for your cookware and appliances.
Questions? Reach out to Michelle at [email protected]