Microwave vs Convection Oven: The Difference Between
When it comes to thoroughly heating up your meals, the considerations of time, safety, and cleaning needs may lead you to wonder who would win in a matchup of microwave vs convection oven.
A microwave is considered better for reheating food and cooking small meals at a quick, convenient pace, while a convection oven is better for overall baking excellence, thorough and even heating, and larger meal preparations. A microwave is cheaper to buy than a convection oven, but a convection oven costs less in terms of energy expenditure.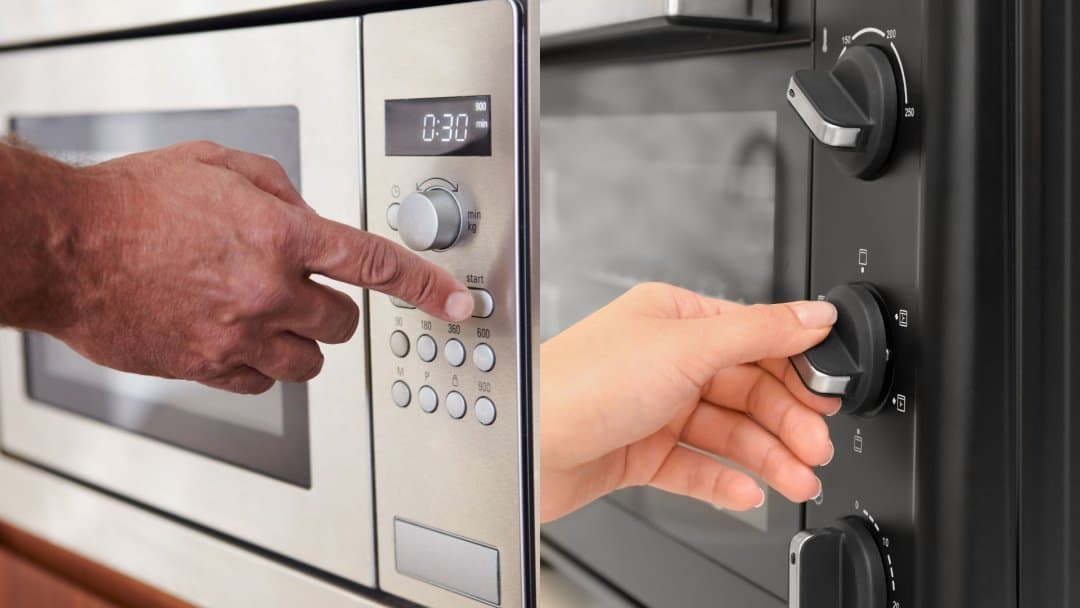 In this article, we'll go over the microwave oven and its pros and cons, as well as a convection oven and the good and bad it has to offer! In addition to showing these main differences between the two, we'll answer some frequently asked questions on the subject.
Microwave Oven vs Convection Oven
We have established that the primary difference is that a microwave oven uses microwaves to heat food, while a convection oven uses hot air.
A microwave oven heats food by bombarding it with microwaves. These waves cause water molecules in the food to vibrate, which produces heat. Convection ovens, on the other hand, work by circulating hot air around the food.
Pros and Cons of a Microwave Oven
We'll start by going over the pros and cons of one of the most well-known kitchen appliances, the microwave! A microwave is a versatile appliance that is installed in most homes and apartments for convenience thanks to its ability to quickly heat food items from the inside out!
In order to see how the microwave measures up against its rival, the convection oven, or other heating devices like the toaster oven and conventional oven, both the advantages and disadvantages of this appliance should be discussed.
Pros of a Microwave
Let's look at the best things about a microwave:
Easy Cleaning Process
A microwave usually only includes one or two removable parts that might need occasional cleaning. These are the rotating tray and the track on which the tray sits. Both of these can easily be popped into the dishwasher! Other than that, cleaning a microwave is as easy as utilizing a disinfecting wipe on the interior.
Variety of Programming
Microwaves almost always come with a keypad featuring not only enough buttons to accurately time your food, but several additional programming options, too! One of the most useful is the defrosting feature, and you can even program your microwave to cook at a higher or lower temperature!
Fast Reheating
A microwave can heat up a variety of leftover foods, even after they've been cooked, with minimal risk of overheating the item. This is not only because the programming options offer more control to the cooker, but because a microwave heats its food from the inside out rather than starting on the already-crisp outside.
Quick Dinners
Microwaves are so renowned for their efficiency that many food production companies have invented a line of microwaveable dinners, including pad Thai dishes, pizza, and even mashed potatoes, which can be hot and ready in a microwave oven in as little as ten minutes!
Convenient Sizing
Though it may not be able to fit and cook an entire turkey or large meal, a microwave is typically compact enough to fit into a small space or in the cabinet layout of small kitchens.
Types of Microwave Ovens
There are many types of microwave ovens to choose from. Choose from a decor color to the standard stainless steel option, they take up less space, use less energy, and take less time to teach the whole family how to use.
Cons of a Microwave
As useful as a standard microwave may be, it doesn't have everything! Let's look at the few bad things a microwave oven might entail:
Use of Radiation
A microwave oven is capable of heating food from the inside out due to the radiation waves it is named after, which interact with the charges of the water molecule inside foods. As useful as this is for quick and thorough heating, it does mean that, in the case of a broken seal, microwave radiation can leak out and cause harm.
Limited Containers
Because metal can hold a charge when exposed to microwave radiation, utensils and containers made of this material cannot be placed in a microwave. Additionally, plastic containers contain harmful chemicals that can leech into food when placed in the microwave, limiting microwavable container options.
Limited Size
Even the largest microwave ovens are not typically bigger than the average cabinet, around 18 inches in depth, and a regular microwave can be even littler. This is a bit smaller than the largest chamber of a convection oven, which can be deeper than 20 inches.
Pros and Cons of a Convection Oven
Now that the microwave oven's offerings have been thoroughly discussed, let's take a look at what a regular convection oven can do! A convection oven is not quite the same as a regular oven. Though they look similar, the main difference is found in their heating elements.
Traditional ovens simply heat the air that is already present in the oven chamber, sitting still. A convection oven's defining feature is the system of fans that are built inside of the chamber which move the hot air around the food inside.
Below, you'll find a more thorough look at what makes the convection oven wonderful as well as its few drawbacks. This way, we can determine which is better: the microwave oven or the convection oven!
Pros of a Convention Oven
Let's look at everything that could possibly put the convection oven on top in a battle between it and the microwave!
Quick Cooking
According to Appliances Connection.com, one of the prime benefits of convection ovens is that they cook over 20% faster than food placed in a regular oven. Again, this is thanks to those wonderful fan systems that blow heat straight onto food.
Even Browning
If you're ever looking at a recipe for food items that calls for you to place the dish in the middle or center of the oven, it is likely because regular ovens have "hot spots," or specific pockets where the best heat forms. Yet a convectional oven's fan systems make sure all dishes are heated evenly, no matter where in the oven they are!
Baking Capabilities
Though a microwave oven is useful for re-heating items, it is not known for the crisp, even heating that a convectional oven can produce. On the other hand, you can cook a whole turkey in a convection oven!
Convection cooking is also available in appliances with a compact design. A small-size countertop convection oven could be better for the home cook who requires the convection option that does not have the convection feature in their standard oven.
Cons of a Convection Oven
As great as the convection oven may seem, it still leaves a few things to be desired, as you'll see below:
Can Become Overcrowded
A convection oven is great for evenly heating one or two dishes, but its main function comes from the circulation of air throughout the oven chamber. Therefore, one of the downsides to this oven is that it can be severely handicapped if more than one dish is placed inside.
Loud Application
As much of a blessing as the heating elements of a convection oven is, their fans do cause a much louder sound, like rushing wind, than a microwave's quieter hum.
Longer Reheating Time
Although a convection oven does cook more quickly than a traditional oven, it can't reheat things as quickly when compared to a microwave oven. As stated above, the average reheating time for meals in a microwave oven is 30 seconds, while a convection oven can take as long as 9 minutes, at least.
Food More Easily Burned
Because of the crisp, hot air circulating through a convection oven, and the added disadvantage of not being able to count on the convection oven turning off automatically, there is a greater chance that you could burn your meal. Food must be watched carefully when using a convection oven.
Less Safe For Children
While a microwave oven is typically sealed against radiation escaping and does not usually include hot trays or even hot interior chamber walls, a convection oven has neither of these safety features. Children have a slightly higher chance of opening a convection oven and brushing up against burning hot material.
More Expensive
According to HomeGuide, the average microwave oven's most expensive price can be $600, which is cheap when compared to the cost of a convection oven. Convection ovens typically cost anywhere between $930 (at the cheapest) and upwards of $12,000 U.S. Dollars!
Appliance Energy Efficiency Comparison Chart
Slow Cooker
Pressure Cooker
Microwave
Oven
Electric Stovetop
Conventional
Oven
Usage
Time
6 hours daily
6 hours daily
6 hours daily
6 hours daily
6 hours daily
Appliance
Wattage
120 watts
1,000 watts
1700 watts
3,000 watts
3,500 watts
Daily
Consumption
0.72 kWh
6 kWh
10.2 kWh
18 kWh
21 kWh
Annual
Energy
Consumption
112.32 kWh
936 kWh
1,591.2 kWh
2,808 kWh
3276 kWh
Annual Running
Cost of Appliances
(Usage Rate 0.20 cents
per kWh)
$22.46
$187.20
$318.24
$561.60
$655.20
Energy Efficiency Appliance Comparison Chart
Video Microwave Oven vs Convection Oven
Frequently Asked Questions
Below are some frequently asked questions about the comparisons of a microwave oven to a convection oven!
What is a convection microwave?
A convection microwave is a dual-moded microwave that offers more than one option when it comes to cooking methods. The first mode of a convection microwave acts as most microwaves do, charging food with heat from the inside out. The second is the convection mode, which is a convection setting that allows hot air to be evenly distributed during baking.
Is a convection microwave the same as a convection oven?
A convection microwave oven is not the same as a convection oven, since it still utilizes radiation rather than a heating fan. However, a microwave convection oven does have similar baking and roasting capabilities to the convection oven.
Can a convection oven be used like a microwave?
A convection oven's only similar function to traditional microwaves is the ability to reheat food, though it takes much longer to do so thoroughly than a microwave would. Their ability to crisp food with the convection fan is where they shine in the cooking process.
Which is healthier, a convection oven or a microwave?
Though microwave energy is more efficient and cheaper in energy than a convection oven, the fact that a microwave oven can sometimes leak radiation when damaged makes it slightly less healthy than a convection oven. However, other than this rare problem, neither oven detracts from the nutritional value of the food more than the other.
When should you not use a convection oven?
A convection oven should not be used unless you're planning on forming a crust on items like cookies, pizzas, biscuits, bread, or cakes since its hot air circulation is specifically designed for these types of food.
Do chefs prefer convection ovens?
Professional chefs choose a convection oven for the thermal control and even cooking it provides. They heat efficiently, a convection oven also reduces overall cooking time. This is beneficial in a restaurant kitchen that operates with limited time and space.
If you are considering buying a convection oven you should read about the differences in my article Convection Oven vs Toaster Oven these two appliances offer similar features.
Conclusion: Microwave vs Convection Oven
Overall, the pros of a convection oven outweigh the cons, making this appliance a better choice for most people. Although microwaves are incredibly popular and have their own set of benefits (such as being more affordable), convection ovens can do so much more than just reheat food.
They produce evenly cooked dishes, can bake an entire turkey, and even work well for multiple-dish meals! If you're in the market for a new kitchen appliance or are simply curious about the differences between these two types of ovens, be sure to keep convection ovens in mind.
My article about Convection Microwave Ovens and Toaster Ovens explains in-depth the differences between these two kitchen appliances.
One-Pot Cooking Rocks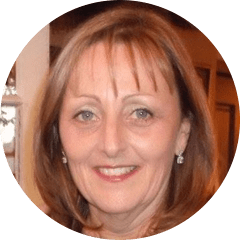 Michelle
Hi, I'm Michelle, the founder, owner, author, and editor of OvenSpot. My passion for one-pot cooking commenced when I was working to prepare cafeteria lunches for school students. I am now on a mission to assist you in choosing the cooking pot or appliance you will use daily. As well as in-depth information to assist you in using and caring for your cookware and appliances.
Questions? Reach out to Michelle at [email protected]