Can You Re Enamel Cast Iron Cookware?
Cast-iron cookware is incredibly important thanks to its ability to retain flavor and reach and maintain high temperatures to achieve great browning. However, the health and safety benefits of the enamel coating on cast iron cookware are just as essential. The question is if they are damaged, can you re enamel cast iron cookware?
Cast iron cookware cannot be given a fresh enamel coating once the enamel coating has been damaged. This is because an enamel coating is primarily made from liquified glass particles which must be applied once for an even, sealing result. This seal, in turn, is what makes enamel beneficial. Once the seal is broken, it cannot be repaired.
In this article, we will cover the benefits of cast iron cookware, why it might be important to preserve the enamel, and whether or not re-enameling the cast iron cookware you have is even possible. We will also go over some frequently asked questions relating to this topic!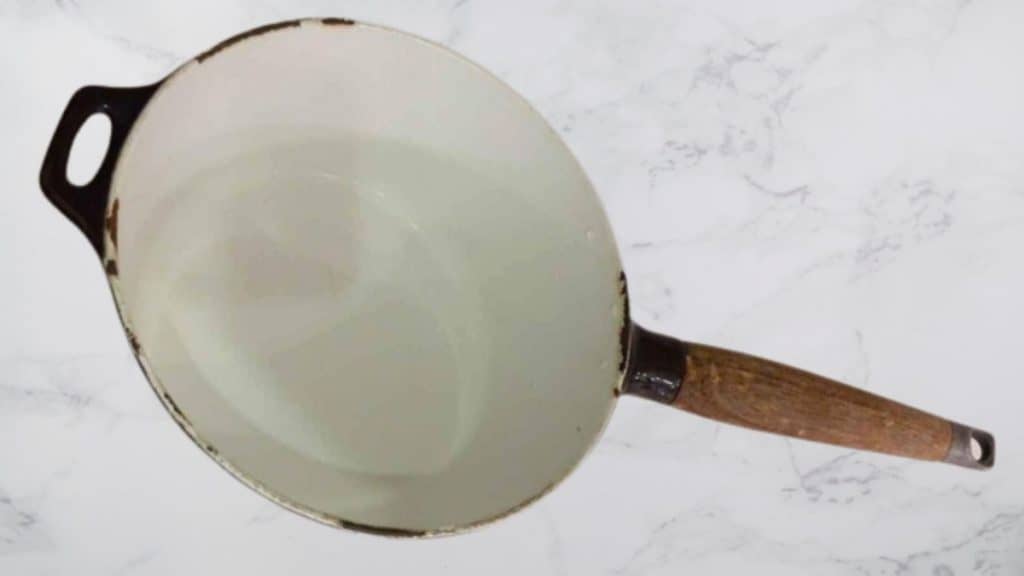 Can You Re-Enamel Cast Iron Cookware
The truth is, that enamel is a very fine coating of glass dust that is super-heated to form a liquid also known as vitreous enamel or porcelain enamel cookware. Once that liquid is applied in an even coat to a piece of cast iron cookware, it forms a seal. This seal only does its job keeping you and you're cast iron healthy and happy if it remains unbroken.
Once the seal is broken, whether by scratching or other types of damage, it cannot be fixed. The only possible way is if a professional strips the cast iron of all previous enamel and then applies an entirely new coating of super-heated glass to the piece.
However, even this may not be up to the same standards as the ironware's original brand and can be tricky to accomplish. Therefore, you cannot re-enamel cast iron cookware.
Advantages of Cast Iron Cookware
Although the news that you won't be able to re-enamel your cast iron cookware may cause you to reconsider purchasing such an expensive piece of equipment, think again! Cast Iron cookware is well worth the trouble, as you'll see in the list of advantages below:
Durability
Accidents happen, perhaps nowhere more often than they do in the kitchen. With the added weight of cast iron, it is natural to drop or heavily place a cast iron piece, especially a large pot. Luckily, though, cast iron is one of the most durable materials around, and an enamel coating only makes it that much more durable.
Cheaper than Stainless Steel
Not only is cast iron cookware useful and high in quality, but it is also actually less in cost than a stainless steel pan! This is high praise considering not only the value that you are getting for each product but the longer-lasting materials cast iron cookware is made with.
Easy to Clean
No Steel Wool! Although you do have to be careful not to use abrasive brushes or metal utensils on enameled pots, these are the only two things to watch out for! Other than that, any dish soap and warm water, scouring pads, or a soft brush can easily get rid of crusty old food because of the enamel coating's non-stick surface.
Although these advantages do come with their own sets of care considerations, they prove that enameled cast iron cookware is really well worth any extra hassle to properly care for them.
Learn more about enameled cast iron cookware in my article: Enameled Cast Iron Cookware Pros and Cons
Is Scratched Enamel Cast Iron Safe to Use?
The example of a chipped cast iron enamel pot above shows the handle enamel damaged. The surface enamel inside of the Dutch oven is not damaged so it would be safe to cook in. Just take care with that damaged handle when moving it around that bare cast iron will be hotter than the enamel surface.
If you've noticed damage on your dutch oven, cast iron braiser, or any other cast iron product with an enamel coating, you should discard it. This is especially true if the scratched enamel is on the surface of the cast iron product that comes into contact with food during the cooking process, like the inside of a pan.
This is because, as aforementioned, scratched enamel basically amounts to a broken enamel seal. When that seal is broken, the enamel can flake off and wind up in your food!
Read more about the safety of enameled cast iron in my article Is Enameled Cast Iron Cookware Safe to Use?
Disadvantages of Bare Cast Iron Cookware: Why Enamel is Important
As excellent as iron cookware is, there are several disadvantages that are important to go over when it comes to bare cast iron, especially when understanding why enamel coatings are so essential to your own health. Let's examine these main disadvantages, applying to both cast iron pots and metal utensils, in the list below!
Cast Iron Is Heavy
Cast Iron Can Leach Metal Into Food
Cast Iron Can Rust
Because these three disadvantages are so important, let's take a look at each of them and go over how an enamel coating can help lessen these problems.
1. Cast Iron is Heavy
This one may seem a bit obvious, but it is still a big consideration when purchasing a bare cast iron pan or pot for one simple reason: the bigger they are, the harder they fall!
When a cast iron pot or pan is dropped, it may be durable enough to withstand a few hard knocks, but it can't endure jarring forever. This can lead to damage, not only to the cookware itself but to any tile or other materials it lands on.
Luckily, most enameled cookware offers extra layers of enamel a shock-resistant material between the cast iron and the floor or counter space. While this may cause the enamel itself to take a hit and become damaged, you never know when hitting the enamel just right instead of bare iron can save your kitchen tiles.
2. Cast Iron Can Leach Metal Into Food
Possibly the most important reason to spring for an enamel cast iron piece of cookware over bare cast iron is the fact that heavy metals do leach into food when exposed to a higher temperature. This can lead to all sorts of health problems depending on the person eating the food, how often the cast iron cookware is used, and what other materials were used when making the cookware.
Some of those health risks include fatigue, cardiovascular issues, and even an increased risk of cancer, according to Doctor Weil.
All of this can be prevented with the added help of an enamel coating. The enamel acts as a shield, keeping any harmful chemicals or heavy metals from coming into direct contact with your food, even over hot temperatures.
3. Cast Iron Can Rust
Now that we've gone over how enamel can protect you from the disadvantages of cast iron, let's talk about how it can protect the cast iron, itself! Rust is a common problem plaguing non-seasoned cast iron cookware. It is caused when water molecules are allowed to come into prolonged contact with the metal.
However, again acting as a barrier, the enamel coating can defend your expensive tools from the menace of rust quite easily!
Read more about the pros and cons of cast iron cookware in my article Advantages and Disadvantages of cast iron cookware. I the pros and cons interest you this will also cast iron vs enameled cast iron.
Can Le Creuset be Recoated?
Le Creuset is one of the leading manufacturers of cast iron cookware and they are famous for their enamel coatings. However, this fame and quality of manufacturing mean that the products are expensive to replace, which may lead to a search for a way to re-coat damaged enamel.
Some places, such as Surface Technology, may be willing to attempt to recoat the enamel on your product by removing the previous coating altogether and starting over on bare cast iron. Though this is a possible solution, it is best to let professionals do this work rather than attempting to fix enamel damage on your own.
It should also be noted the reason Le Creuset's cookware is so expensive because of its decades of mastering layers of enamel over regular cast-iron pots. If you re-enamel your Le Creuset through a third party it will not be the same as it was before.
Be sure to make use of Le Creuset's lifetime warranty policy and investigate whether it is a manufacturing defect. Also, note that the limited lifetime warranty does not cover any damage incurred through regular use of the product.
Resource: Is Le Creuset Enamel Toxic or Safe in 2023?
FAQs
Because the enamel coating process is so important and a little complex to understand, it would be no surprise if you had more questions! Luckily, our frequently asked questions below come with helpful answers!
Can you repair enamel-coated cast iron?
Although many assert that it is possible to repair cast iron cookware, the method of doing so is considered only a temporary fix and can lead to fragmentation of the remaining enamel coating if the owner of the cast iron product is not careful.
Because that fragmentation can lead to you ingesting flakes of the damaged enamel in your food, it is best to discard damaged cast iron cookware and spring for a new, safe product with an intact enamel coat.
How long does enameled cast iron last?
Cast iron utensils and cookware can last a lifetime if cared for properly. As long as your cast iron cookware does not wind up in extreme, fast heat or cold temperatures and is not used to store food, it will be able to serve you for years to come.
Cleaning cast iron pieces without rough, abrasive materials and treating the product with care will help you to preserve the enamel coating and avoid the chipping and flaking that makes these products so difficult to replace.
What should you not use on enameled cast iron?
The best thing to do to preserve enameled cast iron is to make sure you exercise proper care when cleaning it. For example, a nylon scrubbing brush is best used with warm (not hot) soapy water to keep the enamel seal from breaking. Do not attempt to use a steel wood brush!
Additionally, any soap, cleaner, or other kinds of citrus juice is best avoided because their juices will naturally cause the gloss to dull.
Which is healthier, cast iron or enameled cast iron?
As stated previously in this article, the healthiest way to use cast iron cookware is with enameled cast iron products. Cast iron tools, like the traditional cast iron skillet, that are left bare can allow metals to leach into your food under high heat, while enamel coatings prevent this.
Deep dive with me into the subject of vintage cast iron.
Wrap-Up: Can You Re-enamel Cast Iron Cookware
To sum it all up, any cast iron cookware product is most healthy and beneficial when it is coated in enamel, like the Le Creuset Dutch oven, braiser, and other products. Traditional cast iron pans like the iron skillet, stainless steel pans, or French ovens can leach heavy metals into your food and are susceptible to rust.
This is why porcelain enamel coatings are so useful and sought after. It also explains why products that use them are so expensive. Although this may lead you to want to re-enamel cast iron cookware, it simply is not advisable.
Professionals may claim that they are able to fix your enameled cast iron Dutch Oven after it has been scratched, but the truth is, once the enamel coating has been broken, it is safest to simply get a new one. The damage will only lead to flaking, which can wind up in your food for you to ingest! Altogether it is not possible to re-enamel cast iron cookware.
If you are wary about using an enameled cast iron pan stick to regular cast iron that can be restored or choose one of the many different types of cookware on offer today.
Another great option for home cooks that find traditional cast iron cookware too heavy to use is a lightweight alternative like carbon steel. See more about this type of cookware in my article Lightweight Cast Iron vs Cast Iron: The Main Differences
One-Pot Cooking Rocks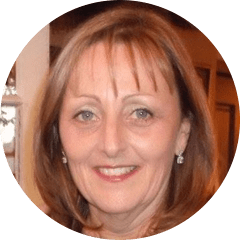 Michelle – Author
Hi, I'm Michelle the founder, owner, author, and editor of OvenSpot. My passion for one-pot cooking commenced when I was working to prepare cafeteria lunches for school students. I am now on a mission to assist you in choosing the cooking pot or appliance you will use every day. As well as in-depth information to assist you in using and caring for your cookware and appliances.
Questions? Reach out to Michelle at [email protected]