50 Types of Cast Iron Cookware and Bakeware
There are dozens of types of cast iron cookware that come in various materials and designs. Cast iron products are made from either raw seasoned cast iron or enameled cast iron.
Cookware and bakeware designs include the ever-popular skillet, which is perfect for searing, frying, and even baking, to more specialized pieces like classic Dutch ovens, known for slow cooking, and the Wok, ideal for stir-frying.
But it doesn't end there read on for over 52 types of cast iron cookware, bakeware, and specialty designs and where to buy them. To mention a few griddles, waffle irons, flattop grills, panini presses, crepe makers, deep fryers, Tetsubin, pizza pans, Potjies, and cake pans.

Disclaimer: As an Amazon Associate I earn from qualifying purchases on my website. If you make a purchase through links from this website, I may get a small share of the sale from Amazon and other similar affiliate programs.
Cast iron is prized for its incredible durability, excellent heat retention, and the unique flavor it can impart to foods. What sets cast iron apart from many other types of cookware is that it improves with age, developing a natural non-stick surface, the more it's used and properly cared for.
It's worth noting that cast iron does require a little extra care compared to other cookware materials. It's not dishwasher safe, and you should avoid using soap when cleaning it to maintain the seasoning. But with the right care, cast iron pots and cookware can last for generations, making it a worthwhile investment for any kitchen.
While traditional seasoned cast iron has its charm, don't forget about enameled cast iron. This type of cast iron cookware offers a bit more convenience, as it doesn't require seasoning and it's easier to clean. Plus, it comes in a variety of colors, allowing you to match your cookware to your kitchen decor.
Seasoned Cast Iron
Seasoned cast iron cookware that has been treated, or 'seasoned,' with a thin layer of vegetable oil that's baked onto the surface. This seasoning process creates a natural non-stick coating and helps to prevent rusting.
It requires a specific cleaning method to maintain the seasoning (no soap, use a stiff brush and hot water, and dry immediately). With use and proper care, this type of cookware can last for generations, and it's revered for its ability to retain heat and even cook.
Enameled Cast Iron
Enameled cast iron cookware, on the other hand, is cast iron coated with a vitreous enamel glaze. This eliminates the need for seasoning cast iron cookware as it's non-stick and rust-resistant straight out of the box.
Enameled cookware offers a more straightforward cleaning process and is generally dishwasher-safe. It also has the advantage of being available in a wide array of colors, providing aesthetic variety to your kitchen.
It tends to be more expensive and less durable than a seasoned cast iron pan, being more prone to chipping or cracking.
Types of Cast Iron Cookware
Skillet
A trusty cast iron skillet is a versatile and essential piece of cookware with a flat bottom and slightly sloped low sides. Although heat conduction is slower than other cookware materials. These frying pans are naturally nonstick and the high temperatures they can withstand are ideal for sautéing, searing, baking, and frying food.
Combo Cooker
A combination of a deep skillet and a shallow skillet that doubles as a lid featuring a long handle and helper handle that helps even the weight. The heat retention of this multi-functional piece can be used for frying, stewing, baking, or roasting.
Dutch Oven
A large, heavy pot with a tight-fitting lid is excellent for slow-cooking, braising, and stewing, retaining heat superbly for even cooking.
Camp Dutch Oven
Pre-seasoned with legs and a flanged lid to hold coals, this variation of a Dutch oven is designed for outdoor cooking over a campfire or charcoal. I have this Camp Chef Dutch Oven with a national park lid.
Read about the differences between the Camp Chef Dutch Oven and the Lodge Dutch Oven
Braiser
This broad, shallow pan that retains heat with its tight-fitting lid is perfect for searing meat. Then slow-cooking it in a small amount of liquid, known as braising. I have and use regularly this exact Slate Gray braiser. Read more about the iconic brand Crock Pot cast iron cookware.
Saucepan
A small to medium-sized pot with a handle and lid, suitable for making sauces, boiling water, pasta, simmering small portions of food, or reheating leftovers.
Wok
This Asian cooking pan with high, sloping sides and a small base that can either be rounded or flat and is perfect for stir-frying, deep-frying, steaming, and even smoking.
Grill Pan
A pan with raised ridges to mimic the grates of a grill for a grilling effect. Grilling steaks allowing you to achieve grill marks and sear meats, vegetables, and sandwiches.
Griddle
A flat, smooth surface pan with no raised edges, excellent for cooking pancakes, eggs, bacon, and other breakfast items. On the flip grill side, you can sear steak, vegetables, and cheese sandwiches.
Sizzling Steak Pan
This pan comes in various shapes and sizes that are excellent for searing and serving steaks, retaining high heat for a sizzling presentation at the table.
Roasting Pan
A large flat deep, high-sided pan rectangular pan with handles with or without a rack, suitable for roasting meats, poultry, and vegetables in the oven. Learn more about roasting pans!
Roaster Oven
This is a large oven-like appliance that can roast, bake, cook, or steam larger amounts of food, perfect for large gatherings.
Omelette Pan
This is a smaller skillet pan with shallow, sloping sides, designed specifically for making fluffy omelets and other egg dishes that require easy flipping and folding.
Chicken and Turkey Roasting Pan
This large roasting pan often comes pre-seasoned, with a rack to elevate the poultry for even heat distribution, perfect for roasting whole birds.
Mini Cocotte
This is a small Dutch oven like cooker, these individual-sized pots with lids, are ideal for serving single portions of soups, stews, or desserts. I use my Le Creuset cocotte regularly to see more about the Staub vs Le Creuset brands.
Fish Pan
A long, narrow oval pan with a lid is used for grilling or baking whole fish or fish fillets.
Tajine
A traditional cone-shaped Moroccan cooking vessel consisting of a circular shallow base and a conical lid, used for slow-cooking and braising flavorful stews, tagines, and braised dishes.
Cast Iron Paella Pan
A wide, shallow pan with handles, perfect for cooking and serving traditional Spanish paella or other one-pan rice dishes.
Mongolian BBQ Grill Pan
This round, concave pan sits over an open flame and is used for quick, high-heat cooking of thinly sliced meats and vegetables.
Melting Pot
A small, deep pouring pot with a long handle and spout is used for melting butter, chocolate, or other ingredients that require melting ingredients at low temperatures.
A shallow, round dish designed specifically for making the classic French upside-down caramelized fruit tart known as tarte Tatin.
Tempura Pot
A deep, wide pot with a removable wire rack or basket, designed for deep-frying tempura or other battered foods. The wire rack is for draining away excess oil.
Potjie Pots
A Potjie Pot is a round, cast iron pot with a lid and handles, traditionally used for outdoor cooking in South Africa. Its rounded bottom prevents food from sticking, making it ideal for slow-cooking stews and curries over a fire.
Egg Fryer
A specialized pan with individual round compartments to shape and contain the fried eggs while cooking.
Pizza Pan
A large round heavy, with low or no sides. It's a flat pan with dual handles used for baking homemade pizzas. Providing even heat distribution and a crispy crust similar to those cooked in brick ovens. Learn about Gas Pizza Oven to use your cast iron pan in.
Corn Stick Pan
A long narrow cast iron pan with individual corn-shaped molds is used for baking cornbread sticks or corn-shaped cakes.
Tea Kettle
A lidded pot with a spout and a handle specifically designed for boiling water for tea or other hot beverages. They often feature an enamel coating on the inside to prevent rusting.
Shrimp Grill and Serving Pan
This pan has individual divots and is designed for grilling and serving shrimp.
Rooster Pan
A kettle steamer is a specially designed iron vessel that's typically used to add humidity to a room or space. It's often used in homes with dry air, particularly those with wood-burning stoves or other heating sources that can dry out the air, potentially causing discomfort or exacerbating respiratory issues.
Oyster Pan
A pan with shallow, rounded compartments is used for baking oysters or other seafood dishes.
Grilling Skewers
Long thin rods with handles, designed for grilling pieces of meat, vegetables, seafood, or broiling Indian-style tikka kebabs.
Waffle Maker
This two-sided device with a honeycomb pattern is used for making waffles.
Sizzle Fajita Platter
A flat, rectangular pan with a handle used for both cooking and serving sizzling hot dishes like fajitas or steaks, often accompanied by a wooden base.
Grill Press
Heavy, flat weight with a handle is used to press down and flatten meats, vegetables, or sandwiches on a grill or stovetop griddle. Providing even cooking for a searing and crispy texture.
Tortilla Press
A heavy, flat two-plated press is used to flatten and shape dough balls into thin, round Tortillas Rotis, and Quesadillas for Mexican cuisine.
Panini Press
A countertop appliance with a hinged top and ridged plates, used for grilling and pressing sandwiches, including paninis.
Bacon Press
A small, heavy flat press is used to flatten bacon strips while cooking, preventing curling and ensuring even cooking.
Fondue Pot
A pot used for melting and serving fondue, typically with a built-in or separate burner to maintain the melted cheese or chocolate at a consistent temperature.
Raclette Grill
A grill pan with individual raclette pans or trays underneath is used for melting cheese and grilling various ingredients for a delicious raclette meal at the table.
Hibachi Grill
A small, portable grill used for direct-heat cooking.
Smoker Box
A small box with ventilation holes in the lid is used for adding smoky flavors to grilled or oven-baked dishes by holding wood chips or other smoking agents.
Cast Iron Bakeware
This can include a variety of baking tools such as cake pans, muffin tins, and bread pans, used for baking in the oven.
Bread Oven
A large, domed oven that retains and radiates high heat, is used for baking bread.
Baking Pan
A rectangular, square, or round pan with low sides is used for baking cakes, brownies, and other oven-baked dishes.
Cornbread Wedge Pan
A specialized pan with individual compartments shaped like wedges designed specifically for baking individual cornbread or corn muffins.
Bundt Cake Pan with Tarte Case Lid
A decorative pan with a central tube and fluted sides, commonly used for baking bundt cakes with beautiful designs. Added bonus of a lid that doubles as a tart pan.
Muffin Pan
A pan with multiple round compartments for baking muffins, cupcakes, and individual-sized desserts.
Pie Pan
A shallow, round pan with sloped sides used explicitly for baking pies, tarts, quiches, and other pastries.
Loaf Pan
A shallow, round pan with sloped sides used explicitly for baking pies, tarts, quiches, and other pastries.
Biscuit and Cupcake Pan
A pan with multiple round cups, used for baking biscuits or cupcakes.
Poffertjes Pan
A pan with small, shallow round compartments, specifically used for making Dutch-style mini pancakes called Poffertjes.
Pig Baking Pan
A baking pan featuring individual pig-shaped molds.
Shortbread Pan
A pan with patterned decorative designs, specifically used for baking shortbread cookies and creating intricate patterns.
Ramekins
Small, individual-serving dishes are used for baking and serving a variety of dishes from crème brûlée to individual pot pies.
Caring For a Cast Iron Skillet
Caring for your cast iron cookware, whether seasoned or enameled, is a task that involves a few special considerations.
For seasoned cast iron, it's usually not recommended to cook acidic foods like tomatoes or citrus, as they can break down the nonstick coating and potentially impart a metallic taste to your food.
On the other hand, enameled cast iron is immune to this issue, allowing you to cook acidic foods without worry. When cleaning seasoned iron, a bit of kosher salt can be a helpful tool.
It serves as a gentle abrasive to remove stuck-on food without damaging the surface. It's best to avoid using metal utensils, which can scratch the surface. Instead, opt for wooden or silicone tools.
After cleaning, always thoroughly dry your cookware using a paper towel to prevent rust. It's also good practice to maintain the seasoning of your iron by lightly coating it with a layer of vegetable shortening or oil.
Then heating it on a low heat source to allow the oil to soak into the pan. This helps preserve the nonstick coating and extends the life of your cookware, ensuring it continues to serve you well in your culinary adventures.
Wrapping Up: Different Cast Iron Cookware
Cast iron skillets and other cookware provide an excellent balance of versatility, durability, and performance. Whether you're a seasoned chef or a home cook, there's likely a place for at least one piece of this cookware in your kitchen.
One-Pot Cooking Rocks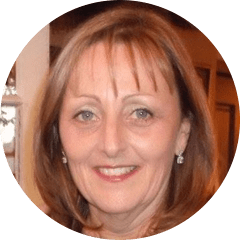 Michelle – Author
Hi, I'm Michelle the founder, owner, author, and editor of OvenSpot. My passion for one-pot cooking commenced when I was working to prepare cafeteria lunches for school students. I am now on a mission to assist you in choosing the cooking pot or appliance you will use every day. As well as in-depth information to assist you in using and caring for your cookware and appliances.
Questions? Reach out to Michelle at [email protected]