How Do Rice Cookers Work? 'Rice, Water & Heat Sensors'
Rice is a staple food for many cultures and has been an essential part of human history. It's also one of the most popular foods in America, with over 100 million pounds consumed yearly. So many people love rice, but it is not an easy grain to cook to perfection with stovetop cooking pots. Rice cookers are the answer to this problem, but how do rice cookers work?
A rice cooker uses the proven water-to-rice ratio in the appliance bowl insert. When the cooking cycle is started, a heating element with built-in temperature control sensors is activated. Water boils and turns to steam upon reaching 212℉; the thermostat turns off, and the steam cooks the rice.
Before deep diving into how rice cookers work, you must know what a rice cooker is!
What Is a Rice Cooker?
Rice cookers are electrical cooking appliances that cook rice by setting the cooking time and leaving the appliance alone until the rice is cooked. The science behind them is pretty simple. A heating element boils water and steams the rice in the insert pot or bowl. The rice is ready in about 20 minutes.
A basic rice cooker has an outer casing usually made from aluminum or steel that helps regulate the temperature required for cooking rice.
There will generally be a manual knob on the front of the cooker that allows you to choose the cooking function required. New models may have an electronic keypad with more cooking options available.
Inside the bottom of the casing will be an electric heating element and a thermostat for regulating cooking temperatures.
To finish off the outer casing, you will find heat-resistant feet designed to protect your countertops from being scratched or damaged.
Next, there is an inner cooking container or bowl that holds the rice and water, and this bowl can be made from various materials, including ceramic, non-stick, and stainless steel.
Lastly is the rice cooker lid. This can be made from either glass or metal and should sport a heat-resistant knob for safely removing the lid from the cooker. The lid fits snugly onto a lip at the top of the bowl insert to keep the moisture inside the cooker so the rice can cook perfectly.
How Does A Rice Cooker Work? – Deep Dive
A rice cooker is an appliance that, if used correctly, will cook the perfect rice for your needs every time. You simply add the required ratio of 1:2 of water and uncooked rice (typically measured either by weight or cup) to the insert and press start!
The machine automatically sets the time to cook the proper amount for whatever you have chosen. The heating element powered by a thermocouple power heats the insert until the water begins to boil, at which time steam will start to cook the rice.
The sensors tell the thermostat to revert to warm until the steaming stops. Lastly, the thermostat turns off when the rice fully absorbs the water.
There is no guesswork on how long it should take; just add the correct rice-to-water ratios and let it do its thing! And unlike boiling pots over high heat, a good quality electric appliance prevents scorching.
Which can create unpleasant flavors and textures found in overly browned rice grains. Cleaning is easy with a wash in soapy water and a quick rinse under running water.
Expert Tip: Only use the spoon supplied (or similar) on the inside of the cooking insert. Any other tools will scratch the inside of the pot, and you will be open to food sticking and burning during cooking time.
Using a Rice Cooker
Every rice cooker is different. It can take a few tries to get a perfect balance, but once you do, it's easy!
Rice Cookers Instructions
Before you use your rice cooker for the first time, I recommend reading the manufacturer's instructions.
Clean Before First Use and After Cooking
Before using it for the first time, wash and dry the inner bowl and all of its accessories in hot, soapy water. Dry thoroughly before reassembling the appliance.
TIP: No abrasive cleaners, scourers, or scrubbers. Soft clothes and soapy water are all you should need. Clean the entire rice cooker after every use for the best results.
Cleaning up a rice cooker after use is easy! To start, remove all the pieces of food and wash them in warm, soapy water. Next, take out the insert bowl from your appliance and wipe it with some soap sparingly on both sides. Make sure you're safe by not using any scrubbing tools that may scratch or damage your bowl or any surface of your cooker.
Are rice cookers dishwasher safe? Parts may be dishwasher safe, cooking bowl, lid, and accessories, but the electrical casing of the unit should NOT go in a dishwasher. Check the manufacturer's instructions, as every brand may differ.
Read more about electrical appliances and dishwashers.
Rice Cooker Accessories
The measuring cups that come with your rice cooker are specially designed to work well for cooking rice in that particular size cooker. Don't use other cups because they won't be the right size and could ruin your rice!
The cooking bowl of a rice cooker is delicate and needs some protection. Do not use anything other than what's supplied. If you use the right accessories, your rice cooker should be safe from scratches!
Cooking Times for Rice Cookers
Be aware that different types of rice will require different cooking times – brown rice will take longer than white rice. Brown rice also absorbs more water, so check your rice-to-water ratios. Following is in-depth information about rice-to-water ratios…
Must read: In-depth tutorial on using a rice cooker – How to Use a Black and Decker Rice Cooker!
Rice to Water Ratio
When cooking rice in a pot, the general ratio of water to rice in a rice cooker is 1:2. That means 1 cup of rice to 2 cups of water.
The caveat to this when cooking in a rice cooker is that you must use the measuring cups provided with the cooker. This is because a rice cooker measuring cup generally measures 180 milliliters, while a standard U.S. cup measures 240 milliliters.
NOTE: The rice cooker cup measure could also vary from brand to brand.
Rice Cooker Rice to Water Ratios and Rice Cooking Time CHART
| RICE Type | Rice to Water RATIO | Cooking Time |
| --- | --- | --- |
| White rice – short grain | 1 cup rice: 1 1/2 cups water | 15 minutes |
| White rice – long grain | 1 cup rice: 1 3/4 cups water | 15 minutes |
| Basmati rice | 1 cup rice: 1 1/2 cups water | 15-20 minutes |
| Jasmine rice | 1 cup rice: 1 1/2 cups water | 15-20 minutes |
| Brown rice – long grain | 1 cup rice: 2 1/2 cups water | 45-50 minutes |
| Wild rice | 1 cup rice: 2 1/2 cups water | 45-50 minutes |
Difference Between Cooking White Rice and Brown Rice
The only difference between cooking brown rice vs white rice is the rice-to-water ratio.
Unlike white rice, which requires about 1 1/2 cups of water per cup of dry grains and takes a mere 15 minutes to cook (depending on the type), brown rice necessitates twice as much liquid and an additional 30-35 minutes.
Brown rice is a lot higher in fiber than its whiter counterpart because it's made from unpolished whole-grain kernels that haven't been stripped down during milling – with all their natural complex carbohydrates intact!
Understanding the Properties of Rice
Believe it or not, there is a science behind cooking rice. It is not as easy as combining water and rice and adding heat. When you understand the properties of rice, you will see how fragile rice can be to prepare.
Types of Rice
The makeup of rice is essential to understand before you learn how to cook it. Rice has a lot of starch, which makes it sticky and also gives it a slightly sweet taste. What this means for cooking methods is that the type of rice you choose will depend on what kind of texture you are looking for in your dish.
For example, if you want a fluffy consistency, use long-grain white or brown rice. If you want something more chewy and firm with some bite to it, try short-grain brown or black rice instead!
TIP: To prevent a rice cooker from boiling over, lift the lid for a couple of minutes to stop this.
How Much Does Rice Expand
Different types of rice have different absorption rates. Use this general rule to work out the dry amount/weight against the cooked volume – "3X RULE".
| Rice Type | Uncooked Rice | Cooked Rice |
| --- | --- | --- |
| White, Brown, or Wild Rice | 1 cup | 3 cups |
| White, Brown, or Wild Rice | 185 grams | 555 grams |
How Does a Rice Cooker Know When Rice is Done?
A rice cooker can determine when the cooker reaches 212 degrees Celsius or 414 degrees Fahrenheit with its thermal sensors. The rice will be cooked as the water has been absorbed, and the cooker will stop cooking the rice. Most rice cookers will then revert to keep warm mode.
Learn How to Fix Undercooked Rice (Guide for All Cooking Methods)
Do Rice Cookers Use Less Water?
A rice cooker uses less water than a stovetop, oven, or microwave cooking. The average amount of water used by a rice cooker is about half. Rice cookers have temperature control heat sensors; once the water is boiling, it turns to steam, which cooks the rice. The white rice to water ratio is 1:2 cups.
The caveat to this is, of course, the type of rice you want to cook. Some rice types, such as brown rice and wild rice, need more water to absorb. They also need more cooking time. Check your manufacturer's instructions with your rice cooker so your rice turns out perfectly every time.
Learn How to Reheat Leftover Rice in a Rice Cooker
What Else Can Be Cooked in a Rice Cooker?
A rice cooker cooks your favorite type of rice, ideally every time, with no fuss or mess. It also can steam and slow cook if the bowl insert is suitable.
A rice cooker can also cook other foods, like oatmeal and soups! You can even cook other grains like quinoa, farro, barley, millet, eggs, potatoes, and more!
Learn how to steam food in a rice cooker in this article, How to steam in a Hamilton Beach Rice Cooker.
Modern Fuzzy Logic Rice Cookers
Why Would You Want a Rice Cooker?
Are you on the fence about whether or not you should purchase a rice cooker? The benefits of a rice cooker are:
Set and forget – add ingredients, choose cook time, and wait for the result
The thermostat prevents rice from burning and sticking. Sticking and burning of rice can occur even when you are watching rice cooking in a pot on the stovetop!
Rice is not the only dish that can be prepared in the rice cooker
Quiet to run
It conserves energy and saves you money
Affordable to purchase
Easy to keep clean
Compact to store
Disclaimer: I earn from qualifying purchases on my website as an Amazon Associate. If you purchase through links from this website, I may get a small share of the sale from Amazon and other similar affiliate programs.
Is It Worth Getting a Rice Cooker
As with any other cooking pot or appliance, my advice is always if you buy it and use it, then it is worth it.
I have a Black and Decker Rice Cooker that I have used for years. It just will not pack it in. But mark my words: when it does, I will rush to buy this (Zojirushi Neuro Fuzzy Rice Cooker – the video above) awesome, highly rated, and coveted rice cooker brand.
How to Cook Rice in a Rice Cooker
Here's how you can make perfectly cooked rice every time using an automatic rice cooker:
Determine the Amount of Rice: Before you begin making rice, you'll need to decide how much rice you want to cook. A common measure is one cup of rice for two people. Depending on whether rice is the main dish or a side, you might want to adjust the quantity.
Rinse the Rice: Before placing the rice into the cooker, rinse it. Rinse the rice under cold water using a sieve or fine-mesh strainer until the water runs clear. This step removes excess starch, preventing the rice from becoming overly sticky or clumping together.
Keep the Rice in the Cooker: Transfer the rinsed rice to the pot of the automatic rice cooker. Ensure the rice is evenly spread at the bottom of the cooker pot.
Add Water: For every cup of white rice, you generally need about 1.5 to 2 cups. The specific ratio might vary depending on the rice type, so it's advisable to check the packaging or refer to the rice cooker's manual.
Begin the Cooking Process: Secure the lid and switch on the rice cooker. Most modern rice cookers have a temperature sensor that monitors the cooking process. As the water gets absorbed and the rice cooks, this sensor tracks the temperature increase.
Wait Until the Rice is Finished Cooking: Patience is key. Do not lift the lid to check on the rice frequently as this allows steam to escape, potentially affecting the cooking process. Your rice cooker will indicate once the rice is finished cooking, usually with a click sound or a light change.
Keep the Rice Warm: After your rice has finished cooking, most rice cookers automatically switch to a 'keep warm' setting. This ensures that the rice remains at an ideal temperature for serving without overcooking. If you aren't serving the rice immediately, take advantage of this feature, but try not to keep the rice warm for extended periods, as it can dry out or become overly sticky.
Fluff and Serve: Once cooked, gently fluff the rice with a fork or a rice paddle to separate the grains and give them a light texture. This also prevents the rice at the bottom from becoming too compacted.
Electric rice cookers, turn the daunting task of making rice easy. Remember, the key to perfect rice lies in rinsing, the correct water-to-rice ratio, and patience during the cooking process.
Learn how to cook rice in a slow cooker.
Final Thoughts About Rice Cookers and How They Work
If you're looking for some delicious dinner ideas, try cooking brown rice with your new favorite kitchen appliance! You can also use your new device to make oatmeal, quinoa, risotto, and more!
It's easy to clean, too – just rinse the pot and lid after each use. Another bonus of using a rice cooker is that you don't have to worry if you set and forget it – it'll automatically switch off when the rice is cooked, so it will not burn.
Need some help choosing the correct rice cooker for your needs – check out my in-depth article How to Choose a Rice Cooker
One-Pot Cooking Rocks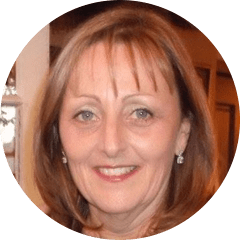 Michelle
Hi, I'm Michelle, the founder, owner, author, and editor of OvenSpot. My passion for one-pot cooking commenced when I was working to prepare cafeteria lunches for school students. I am now on a mission to assist you in choosing the cooking pot or appliance you will use daily. As well as in-depth information to assist you in using and caring for your cookware and appliances.
Questions? Reach out to Michelle at [email protected]