Crock-Pot V2 Wemo Smart Wifi Slow Cooker
As far as slow cookers go this family-sized Crock-Pot that can be controlled with new application technology is something to beholden.
Crock-Pot has combined wifi technology using your smart device and an application called WeMo. You can enable or disable the power to your smart slow cooker anytime throughout the day when you are not home. So if you have an internet connection you are ready to start using this cooker as soon as you are ready.
I want to show you the features of the slow cooker, what I like about this cooker, the technology, the benefits, and my final thoughts. Use your smart device together with application technology to control the cooking of your dinner while you are not at home! Even being able to turn the slow cooker off altogether if you cannot make it home!
Functions sound great to me. Let's get started!
Disclaimer: As an Amazon Associate I earn from qualifying purchases on my website. If you make a purchase through links from this website, I may get a small share of the sale from Amazon and other similar affiliate programs.
What Is a Wifi Crockpot?
Some might ask what is a wifi crockpot. or what is a smart crockpot?
Well, the answer is that it is a slow cooker that is wifi enabled and can be controlled via an application (App) from your smartphone or other smart devices.
You use the application to change the cooking temperature, and cooking times, and change the cooker to the keep-warm mode. You can even turn it off altogether if you are delayed or for some reason cannot come home.
The cooker below is wifi enabled as described. Take a look…
If you have had enough and just want to check out my favorite slow cooker slow cooker see this great slow cooker at Amazon.
Crock-Pot SCCPWM600-V2 Wemo Smart Wifi Slow Cooker
We all know the brand name Crock-Pot from the 1970s when the first cooking pot was released. 50 years on and we have a whole new range to discover and explore. I am certain even the most tech-savvy among us will be surprised at what this electric cooker can achieve.
Features – Crock-Pot WeMo Smart-Wifi Slow Cooker
Adjust cook time & temperature using the WeMo Application
Can be controlled via the WeMo Application as well as directly on the slow cooker itself
Connected product solution delivers enhanced control, convenience, and peace of mind
3 Heat settings
Removable oval stoneware
Adjust cooking time, and temperature, shift to warm or turn off using the Free WeMo App from your smart device
Free WeMo App available for Apple(iOS 7 and higher) and Android(4.0 and higher) devices
Connect from anywhere with 3G / 4G / Wi-Fi
6-quart capacity
Cool-touch handles
Built-in cord storage
Dishwasher-safe stoneware and glass lid
About – Crock-Pot 6-Quart Slow Cooker
This Crock-Pot uses the WeMo Application which allows you to adjust cook time and temperature remotely as well as the ability to use the controls traditionally on the Crock-Pot itself.
What you need to get started is the WeMo App which is free to install on any Apple smart device with iOS7 or higher. Alternatively, an Android smart device with 4.0 or higher and a Wi-Fi router and internet connection.
The Crock-Pot insert is constructed of a stoneware insert and a glass lid which are dishwasher safe.
The stainless steel cooker itself is a sleek oval design with cool-touch handles and a lid handle. The dimensions of the Crock-Pot are 17.4 inches x 9.6 inches x 13.9 inches and weigh 14.9 pounds.
The size of this Crock-Pot slow cooker is large enough for roasts and feeds seven or more people. The slow cooker also comes with built-in cord storage.
The Technology of This Crock-Pot Slow Cooker
Obviously, there is a lot of technology surrounding this slow cooker, but in this day and age, technology is commonplace. So I thought the best way to explain how to use this technology with a slow cooker would be to break it down into parts. So here we go…
Setting Up Your Device
This part of the installation pretty much works the same as any other device that needs to be programmed. For example televisions, game consoles, and home security. So if you follow the instructions provided you cannot really go wrong.
The Wemo Crock-Pot works the standard way (the same way you control any other appliance or security system) with any Android or Apple Devices, an application, Wi-Fi, 3G, 4G, or 5G networks…
If you require the manual here it is Wemo Crockpot Manual
Schedule
As with any other slow cooker, you still have to prepare the ingredients. After this, all you need to do is select your required temperature and the cooking time.
Monitor
In conjunction with your app, you can monitor the cooking time while you are not around the slow cooker. Check the status of your meal by checking the cooking time left, and checking up on the temperatures. And lastly if for whatever reason you cannot return to your cooked meal turn it off.
Modify
Let you adjust the cooking temperature and time throughout the day if you already know your serving time has changed from when you initially programmed the cooking time.
Notify
You can get notifications as to when the cooking time is complete or if the slow cooker turns off. Then you can alert the family that their dinner is ready for serving even if you are not there.
Benefits – Crock-Pot Slow Cooker
The built-in cord storage is a huge bonus as most appliances have cords wrapped around the appliance itself which makes for very difficult storage of the whole appliance.
The fact that you can turn the slow cooker off remotely is a huge bonus because there are times when we get held up and just cannot get home.
Unfortunately, this Crock-Pot does not shop for ingredients or prepare them for cooking. But it does seem to do everything else to make sure you get the best possible meal when you are ready to serve.
To Finish – Crock-Pot Smart-Wifi Slow Cooker
Is the Crock-Pot SCCPWM600-V2 Wemo Smart Wifi-Enabled Slow Cooker, 6-Quart the best smart slow cooker?
My verdict is yes for the price of around $100.00 this slow cooker is the best smart slow cooker. We spend hundreds of dollars on gaming consoles and other appliances without flinching. So for around $100.00 for this new age smart technology, it is not a lot of outlay.
So if you are willing to give smart technology along with cooking easy meals a try! I would have to say that you would not go wrong with this well-known brand of slow cooker.
Feel as though this technology is too much for you? A similar Crock-Pot slow cooker that operates manually may be a consideration! Check out more in my detailed article Crock Pot 7-qt.
See this 6-Quart smart Crock-Pot for yourself today…
Classic easy to use manual Crock-Pot
Lovely shape perfect for holidays and special occasions
Stainless exterior with black crock insert and is easy-to-clean
Slow cooking is not the only thing this gorgeous multi cooker does more than slow cooks
7-quart size with 6 functions in one cooker
Sautes', sears, sous vide, rice cooking
Rack inserts for organized meal preparation
Comes with a temperature probe for safe cooking and 5-year warranty
Programmable LCD screen with cycle times of up to 26 hours & keep warm setting
3 sizes – 4, 6.5, & 7-quart. Ceramic or aluminum inserts to choose from
Glass lid, serve from the ceramic cooker, and easily cleaned
A great one-pot cooker from an iconic brand All-Clad
A programmable slow cooker with various heat settings and flexible hour settings
7-quart size for families and entertaining
Stoneware crock, glass lid are dishwasher safe
Ultra-modern brushed stainless look
Handy 3.5-quart size and oval shape
Programmable LCD screen with a 24-hour timer, 3 cooking modes, and keep warm function
A compact one-pot cooker that fits on the countertop easily from an iconic brand Cuisinart
One-Pot Cooking Rocks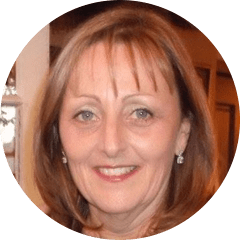 Michelle – Author
Hi, I'm Michelle the founder, owner, author, and editor of OvenSpot. My passion for one-pot cooking commenced when I was working to prepare cafeteria lunches for school students. I am now on a mission to assist you in choosing the cooking pot or appliance you will use every day. As well as in-depth information to assist you in using and caring for your cookware and appliances.
Questions? Reach out to Michelle at [email protected]