Rolling Pins with Ball Bearings: Baking Made Easy
In the realm of baking, precision, and ease are key to creating those mouth-watering pastries and perfect pies. One tool that stands out in ensuring you achieve these goals is the rolling pin with ball bearings. A step above traditional rolling pins, this remarkable kitchen tool is all about providing ease and efficiency while handling dough.
Let's explore the advantages of rolling pins with ball bearings and why they have become a must-have for both amateur and professional bakers.
How Does It Work?
A rolling pin with ball bearings is designed for seamless and smooth-rolling, ensuring your dough is evenly flattened without extra effort. The ball bearings allow for smooth rotation, reducing the resistance encountered when rolling out your dough. This mechanism ensures that the rolling pin glides easily, providing an even and consistent dough thickness, which assists in baking perfection.
What are Stainless Steel Ball Bearings?
Stainless steel ball bearings in a rolling pin are small, spherical components placed between the rolling surfaces. They reduce friction, ensuring smooth, effortless rolling, consistent dough thickness, and increased durability, making them a must-have for precision baking.
Why Opt for a Rolling Pin with Bearings?
Effortless Rolling
The effortless glide provided by the ball bearings means you apply less force and achieve better results. This makes it easier for people of all ages and strengths to roll out dough to their desired thickness. It's a boon for those who love baking but find the physical effort a challenge.
Enhanced Control
With a smoother rolling action, you gain better control over the dough's thickness and size. This precision and control are vital for creating delicate pastries and intricate baked items, making it a favorite choice for both amateur and professional bakers.
Uniform Dough Thickness
Achieving uniform dough thickness is a breeze with a rolling pin equipped with ball bearings. The smooth and even rolling ensures consistent dough, which is essential for baking success. Whether it's for cookies, pies, or pizzas, uniform dough contributes to even baking and a better texture, enhancing the overall taste and appearance of your baked goods.
Versatility
Rolling pins with ball bearings are versatile tools that can be used for a wide range of baking tasks. Whether you're making cookies, pastries, pizza dough, or pie crusts, these rolling pins can handle it all. Their ease of use and precision make them an indispensable tool in the kitchen.
Time-Saving
One of the most significant benefits of rolling pins with ball bearings is the time they save. With the effortless rolling motion, you can cover a larger surface area in less time. This is particularly advantageous when you have a batch of cookies or a pie crust to prepare, helping you get your baked goods into the oven faster.
Less Fatigue
Traditional rolling pins can be hard on your wrists and shoulders, especially when working with tough or large batches of dough. Rolling pins with ball bearings reduce the strain on your muscles, making the rolling process less physically demanding. This can be a game-changer for those who love baking but have concerns about repetitive strain injuries.
Durability
Constructed with high-quality materials and advanced design, these luxury rolling pins are built to last. The inclusion of ball bearings not only contributes to a superior rolling experience but also enhances the durability of the rolling pin, giving you a reliable baking companion for years to come.
Easy Maintenance
Maintaining a rolling pin with ball bearings is relatively straightforward. Many models are designed with removable bearings for easy cleaning. This ensures that your rolling pin stays hygienic and in excellent condition for years to come.
Types of Rolling Pins with Ball Bearings, Materials, and Shapes
Rolling pins with ball bearings come in various types, materials, and shapes to cater to different baking needs and personal preferences. Let's explore the options available:
Frequently Asked Questions
What kind of rolling pin is best for pie crust?
The best rolling pin for pie crust is typically the French rolling pin. Its tapered design allows for precise control and even rolling, ensuring a uniform crust thickness. Its direct tactile feedback helps in achieving the desired thinness without overworking the dough, needed for flaky pie crusts.
What is the difference between a ball-bearing rolling pin and a French rolling pin?
A ball-bearing rolling pin has a central rod with handles on each end, which rotates independently due to ball bearings, allowing for smoother rolling. A French rolling pin is a tapered cylindrical design without separate handles, offering more tactile feedback and precision.
Wrapping Up: Rolling Pins with Ball Bearings
In essence, investing in a rolling pin with ball bearings is a decision that promises ease, durability, and perfection in your baking endeavors.
They offer precision, time-saving benefits, versatility, and comfort, making them a must-have tool for both home bakers and professional pastry chefs.
I still use my grandmother's classic wooden rolling pin with ball bearings. Sure it has seen better days but it still does the job and is a cherished family heirloom.
One-Pot Cooking Rocks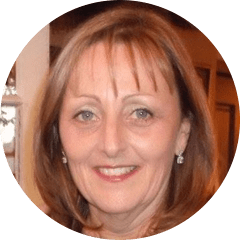 Michelle
Hi, I'm Michelle, the founder, owner, author, and editor of OvenSpot. My passion for one-pot cooking commenced when I was working to prepare cafeteria lunches for school students. I am now on a mission to assist you in choosing the cooking pot or appliance you will use daily. As well as in-depth information to assist you in using and caring for your cookware and appliances.
Questions? Reach out to Michelle at [email protected]