Rolling Pin Uses: Essential Techniques and Tips
If you think the rolling pin is a one-hit wonder, only good for flattening your pizza dough or pie crust, you're not alone but you're also sorely mistaken. This simple tool, often overlooked amidst flashy stand mixers and high-tech gadgets, deserves a second glance. Some say the rolling pin is the unsung hero of a well-stocked kitchen.
Get ready for a culinary revelation because this cylindrical marvel is your ticket to perfecting anything from fluffy dumplings and intricate lattice crusts to artisanal crackers and even homemade pasta.
Popular types of rolling pins include straight, French tapered, and classic handled. Rolling pins and pastry dough at the ready things are about to get deliciously creative.
Types of Rolling Pins Comparison Chart
| Type | Shape | Material | Notes |
| --- | --- | --- | --- |
| Traditional/French | Long, tapered, and thin | Wood | Ideal for pie and pastry circles, tarts, and other pastries |
| Straight/Cylinder | Even cylindrical shape | Wood, Marble, Stainless Steel | Good for cookies, pizza dough, and other flatbreads |
| Ball-Bearing | Cylindrical with handles | Wood, Stainless Steel | Handles make it easier to roll evenly |
| Tapered | Tapered ends, no handles | Wood | Good control for shaping dough |
| Textured/Patterned | Good control for shaping the dough | Wood, Ceramic | Adds decorative textures to doughs |
The Use of a Rolling Pin in Baking
Using Rolling Pins for Pastries
Rolling pins are your best buddies in crafting delicious pastries, like croissants and puff pastries. You'll want to roll the dough evenly to get consistent layers and flakiness.
Puff pastry is fine so just make sure you're using enough flour to prevent sticking, and you'll be golden. Rolling pins made of different materials, such as wooden rolling pins, aluminum, or silicone, work fine for this task.
Making Pie Crust with a Rolling Pin
Pie crust is another area where rolling pins play a vital role. Whether it's a shortcrust pastry for your tarts or a classic pie crust, a rolling pin will ensure even thickness and better baking results.
Pro Tip: use rolling pin rings to get a precise dough thickness these little gadgets sit on the edges of the pin and are super handy.
Baking Cakes with Rolling Pins
When baking cakes, rolling pins can be a secret weapon. They help you create a perfectly even layer of cake batter. You know those stunning multi-layered cakes you see on Instagram? Yeah, rolling pins are behind those beauties. Just spread the batter evenly using a spatula, and then gently roll it with your trusty rolling pin to make sure everything is nice and level.
Using Rolling Pins for Fresh Pasta
And let's not forget about fresh pasta! Rolling pins allow you to achieve the perfect thinness for various types of pasta, like lasagna, fettuccine, or ravioli. This ensures a consistent cooking time and a delightful texture.
Just roll out your pasta dough to your desired thickness, and you're good to go. Homemade pasta is so worth the effort, and your rolling pin is the key to making it just right.
Using Rolling Pins for Pizza Dough
Rolling pins are not just for pasta, pie, and pastry doughs, they're also perfect for pizza dough. For homemade pizza that rivals your favorite pizzeria's, a rolling pin can help achieve an evenly thin crust, setting the stage for a crispy, delicious base.
Roll out your pizza dough on a floured surface, spinning it as you go to ensure uniform thickness. Keep your movements gentle to avoid overworking the dough, which can make it tough. By using a rolling pin, you're well on your way to creating a pizza masterpiece right in your kitchen.
How to Use a Rolling Pin
Flattening Dough with a Rolling Pin
Using a rolling pin can make cooking and baking tasks way easier. To flatten the dough, lightly dust your working surface with some flour to prevent it from sticking. Place your dough in the center of the surface, grab your rolling pin, and apply even pressure while you roll it outwards.
This technique works great for cookie dough, pie crusts, and pizza bases. To achieve even thickness, you can use rolling pin rings. These little helpers will ensure your dough is consistent, so no worries about uneven baking or burnt spots.
Decorating with a Rolling Pin
You can also use your rolling pin to create fun shapes and decorations. For example, if you're making cookies and want to add texture, simply press the rolling pin onto the dough with a gentle rocking motion.
This will create an imprint, giving your cookies a unique appearance. Rolling pins are available with engraved patterns or interchangeable discs, making your decoration game even stronger!
Rolling Pin Maneuvers
Mastering the art of rolling pin maneuvers is essential for achieving the perfect dough or pastry. The main movements you should know are:
Turn: To turn your dough, give it a 45-degree rotation while ensuring it doesn't stick to your work surface. This will help in achieving an even thickness all around.
Rotate: Rotating the rolling pin involves spinning it on its axis and applying pressure in one direction while simultaneously pulling in the opposite direction. This method helps in shaping the dough to your desired form.
Maneuver: Good grip on the rolling pin is crucial for control and stability. Hold one end of the pin with your dominant hand while using your other hand to guide it. This way, you'll have total control of the pin, making your baking endeavors a piece of cake!
Fun Fact: This body massager looks and is used like the traditional kitchen rolling pin!
Additional Uses of Rolling Pins
Using Rolling Pin as a Meat Tenderizer
So, you've got a tough cut of meat, and you need to tenderize it? Grab your rolling pin! Lay a piece of plastic wrap or parchment paper over your meat and give it a good whack with the rolling pin.
The force will break apart the meat's fibers, making it tender and easier to cook. This works for all types of meat, whether beef, pork, chicken, or fish. Remember to control your strength because you don't want to pulverize your meat.
Grinding Spices with Rolling Pins
Rolling pins can also come in handy when you need to grind spices. To do this, place your spices on a flat, rigid surface (like a cutting board) and cover them with a sturdy plastic wrap.
Start by gently pressing down on the spices with the rolling pin to break them up. Then, roll over the spices with a bit more pressure, ensuring they're evenly ground. It's a simple and efficient way to grind your spices without using a mortar and pestle.
Utilizing Rolling Pin for Tile Smashing
If you're into some DIY home projects, you can use your rolling pin for tasks like tile smashing. This might come in handy when you're looking to create a trendy mosaic or broken tile piece.
Wear proper protective gear, like gloves and goggles, then wrap the tiles in a thick cloth or heavy-duty plastic bag. Gently hit the wrapped tiles with the rolling pin, applying more force as needed. Voilà! You've got perfectly smashed tiles for your artsy project.
How do I choose a rolling pin for my specific needs?
When selecting a rolling pin, consider the job you'll be using it for most:
Rolling dough: Go for a classic rolling pin – either a French pin (tapered ends) or a ball-bearing pin (handles on either side). These make it easy to roll out dough for pies, cookies, and more.
Meat tenderizing: Choose a heavier rolling pin, like a marble one, that can give you the power needed to break up meat fibers.
Grinding spices: Opt for durable wooden or marble rolling pins, which can withstand the pressure applied during the grinding process.
Tile smashing: Make sure your rolling pin is sturdy and heavy-duty, preferably made of wood or materials resistant to cracking.
Wrapping Up: Rolling Pin Uses
Remember, your choice will depend on your specific needs and preferences. A versatile rolling pin can help you tackle various culinary and DIY tasks with ease.
One-Pot Cooking Rocks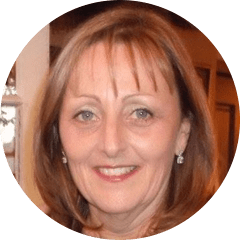 Michelle
Hi, I'm Michelle, the founder, owner, author, and editor of OvenSpot. My passion for one-pot cooking commenced when I was working to prepare cafeteria lunches for school students. I am now on a mission to assist you in choosing the cooking pot or appliance you will use daily. As well as in-depth information to assist you in using and caring for your cookware and appliances.
Questions? Reach out to Michelle at [email protected]