How Long to Cook a Roast in an Electric Roaster Oven
Cooking a delicious roast doesn't need to be complicated or daunting, especially when you're using a Roaster oven. You will need to know how long to cook a roast in an electric roaster.
In an electric roaster oven using an average temperature of 325°F (163°C) a roast with the bone in will take 25 minutes per pound and a roast without the bone will take 20 minutes per pound. Use a meat thermometer to monitor the meat's actual cooking temperature.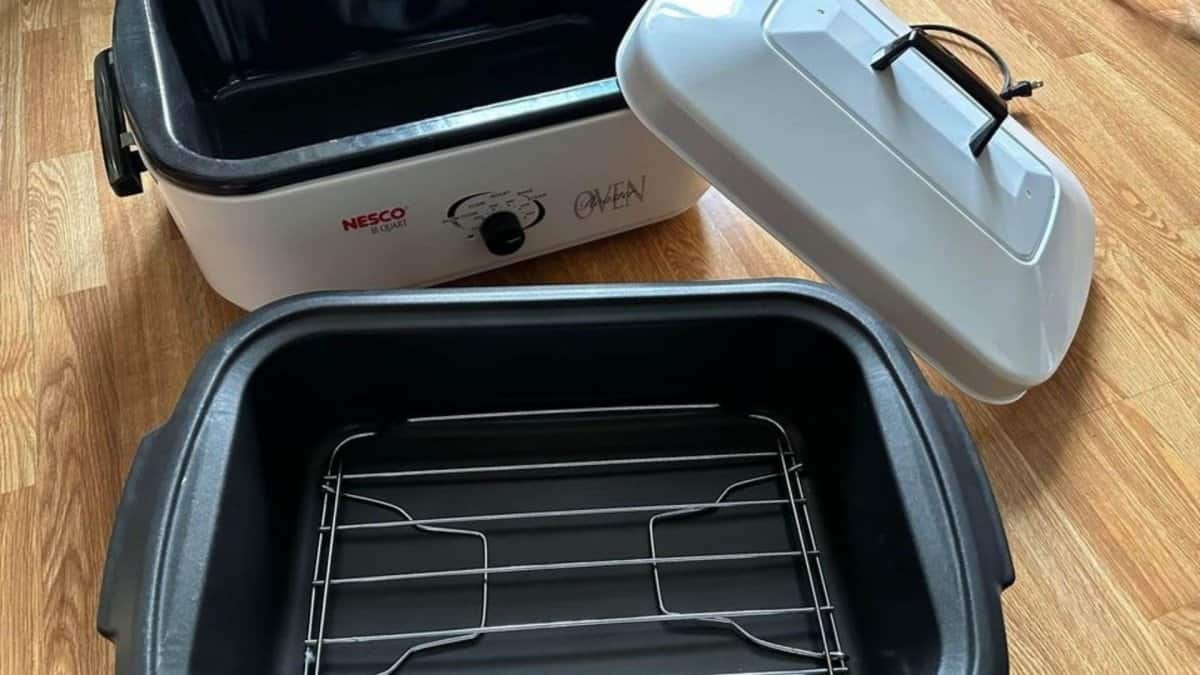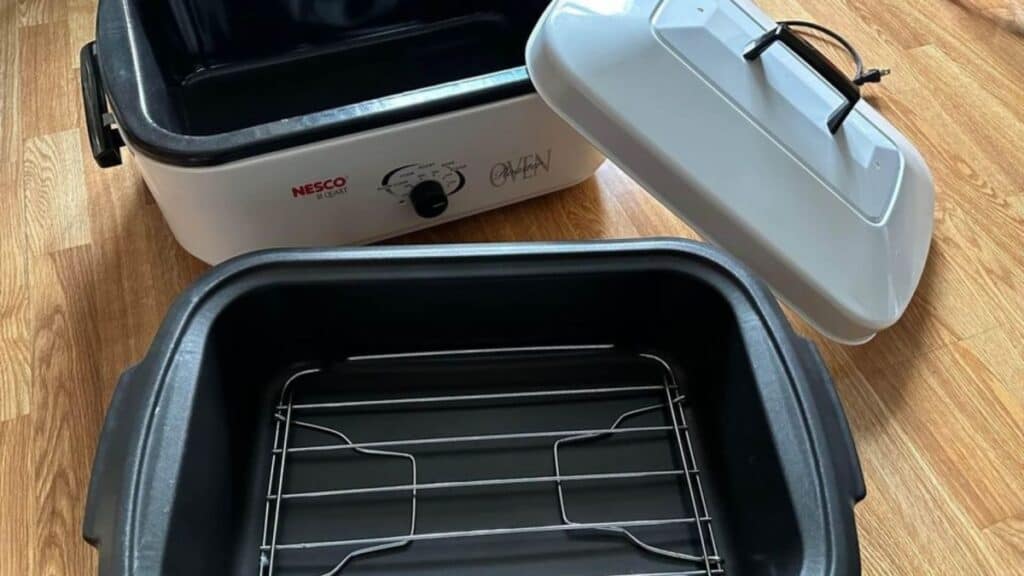 Disclaimer: As an Amazon Associate I earn from qualifying purchases on my website. If you make a purchase through links from this website, I may get a small share of the sale from Amazon and other similar affiliate programs.
Cooking Times for Different Types of Roasts
The cooking time for a roast in a roaster oven can vary depending on the type of meat and the desired level of doneness.
Turkey
Weight: 10-15 lbs
Cooking Time: 3-4 hours at 325°F
Recommended Internal Temperature: 165°F
Chicken
Weight: 4-5 lbs (Whole)
Cooking Time: 1.5 – 2 hours at 350°F
Recommended Internal Temperature: 165°F
Beef Roast (Rare to Well Done)
Weight: 3-5 lbs
Cooking Times and Temperatures:
Rare: 20-25 minutes per pound at 325°F, Internal Temperature of 125°F
Medium Rare: 25-30 minutes per pound at 325°F, Internal Temperature of 135°F
Medium: 30-35 minutes per pound at 325°F, Internal Temperature of 145°F
Medium Well: 35-40 minutes per pound at 325°F, Internal Temperature of 150°F
Well Done: 40-45 minutes per pound at 325°F, Internal Temperature of 160°F
Pork Roast
Weight: 3-5 lbs
Cooking Time: 20-25 minutes per pound at 325°F
Recommended Internal Temperature: 145°F (allow to rest for 3 minutes)
Please note that these are general guidelines and actual cooking times may vary based on your specific roaster and the exact cut of meat you are using.

The FDA states that the minimum internal cooking temperature for meat is 145 °F (62.8 °C) and allow to rest for at least 3 minutes. The minimum internal temperature for poultry is 165 °F (73.9 °C).

Always use a meat thermometer to ensure your roast is cooked to a safe internal temperature.
What is an Electric Roaster Oven?
Before we delve deeper into our main topic, let's understand what a roaster oven is. Essentially, it's a versatile, compact appliance that resembles a slow cooker in many ways, but is generally larger and has a removable roasting pan.
These ovens provide several advantages that can make your cooking process simpler and more efficient.
Efficiency and Versatility
One of the most significant benefits of a roaster is its efficiency and versatility. It allows you to roast, bake, steam, slow cook, and even warm your food all in one device!
You might be surprised the Roaster oven has some functions like slow cookers – learn more.
Temperature Control
The thermostat in a roaster ensures that the temperature remains consistent, leading to more predictable and uniform cooking.
Energy Saving
Lastly, a roaster oven is energy-saving. It uses less electricity compared to a conventional oven, making it an eco-friendlier choice.
Take a deep dive with me in this appliance comparison to learn more about roaster ovens.
Preparing to Roast in a Roaster Oven
Selecting the Roast
Different cuts of meat require varying cooking times in an electric roaster. For example, a beef tenderloin roast will cook faster than a chuck roast. Consider the type and size of the chuck roast when determining the cooking time.
Seasoning the Roast
Before cooking, the seasonings to the roast with your preferred spices, herbs, and marinades. Allow the roast to marinate for a few hours or overnight to enhance its flavor.
Learn how to use a roaster oven with OvenSpot's definitive guide.
Preheat Roaster Oven
To ensure even cooking and optimal results, it's important to preheat the roaster oven. Preheating allows you to preheat the oven to reach the desired temperature before placing the roast inside. Follow these steps to preheat your roaster oven:
Plug in the roaster and set the temperature according to the recipe or guidelines for your specific roast.
Close the lid and allow enough water for the roaster to heat up for approximately 15-20 minutes.
Use an oven thermometer to check if the oven has reached the desired temperature. Adjust the settings if necessary.
Cooking the Roast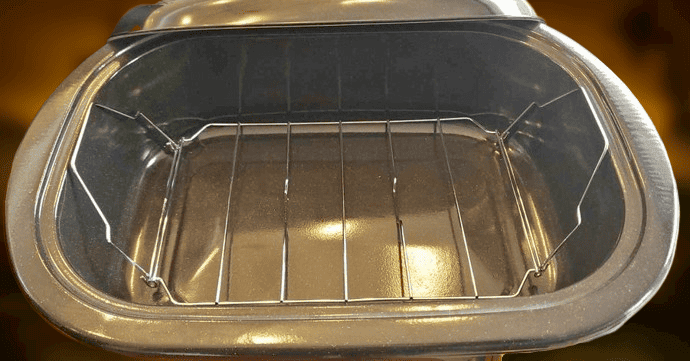 Now that you've prepared the roast and preheated the electric roaster, it's time to cook your delicious meal. Follow these steps for successful cooking:
Setting the Temperature and Time
Refer to the cooking guidelines specific to your roast for the recommended temperature and cooking time.
As a general rule of thumb, aim for an internal temperature of 145°F (63°C) for medium-rare, 160°F (71°C) for medium, and 170°F (77°C) for well-done.
Set the roaster to the appropriate temperature and calculate the cooking time based on the weight of your roast.
Meat Thermometer
To ensure your roast is cooked to perfection, it's essential to monitor its progress. Here's what you need to do:
Check the internal temperature of the roast using a meat thermometer. While cooking insert the thermometer into the tender, thickest part of the meat, avoiding bones or fat.
Keep track of the cooking time to ensure you don't overcook or undercook the roast. Increase or reduce temperature and cooking time if necessary.
Adding Additional Ingredients
To enhance the flavor and juiciness of the roast, consider adding additional ingredients during the cooking process.
You can place vegetables, such as carrots, potatoes, and onions, around the roast. Herbs always give added depth to a dish, spices, salt and pepper, or a splash of stock or wine to the cooking liquid.
Remember to arrange meat over vegetable pot roast or slow cooking style.
Basting the Roast
Basting involves periodically spooning the cooking juices over the roast during the cooking process. This helps to keep the meat moist and infuse it with flavor.
Open the lid of the oven and use a basting brush or spoon to drizzle the juices over the roast. Repeat this process every 30 minutes or as needed.
Resting the Roast
After the roast beef is cooked, it's crucial to let it rest before carving. Resting allows the juices to redistribute within the meat, resulting in a more flavorful and tender roast. Cover the cooked roast loosely with aluminum foil and let it rest for about 15-20 minutes before slicing and serving.
Factors Affecting Cooking Time
The answer to this question varies and is influenced by several factors.
Size of the Roast
The size of your roast significantly impacts how long it will take to cook. Larger roasts will take longer than smaller ones.
Type of the Roast
The type of meat or vegetables you're roasting also plays a role. For instance, a beef roast may require a different cooking time than a pork roast.
Starting Temperature of the Roast
For more consistent and even cooking, it's recommended to bring the roast to room temperature before placing it in the Roaster oven. This allows for more accurate cooking time and prevents the roast from being cold in the center.
Temperature Setting
The temperature setting you choose will affect the cooking time. Lower temperatures will require more time than higher ones.
Adjustments and Troubleshooting
Even with careful planning, there may be instances where adjustments and troubleshooting are necessary. Here are some tips to help you overcome common challenges:
Increasing or Decreasing Cooking Time
If you prefer a roast that is more well-done or less cooked, you can adjust the cooking time accordingly. Increase the cooking time for a well-done roast or decrease it for a rare result. Keep in mind that adjusting the cooking time may affect the overall tenderness of the roast.
Dealing with Undercooked or Overcooked Roast
Sometimes, despite your best efforts, the roast may end up undercooked or overcooked. Here's how you can address these situations:
Undercooked Roast: If you find that the roast is undercooked after the recommended cooking time, you can continue cooking it for additional minutes until the desired internal temperature is reached. Check the temperature regularly to prevent overcooking.
Overcooked Roast: If the roast is overcooked and has become dry, you can try salvaging it by adding some moisture. Drizzle some broth or sauce over the sliced meat when serving to add moisture and enhance the flavor.
Check out what you cook in a roaster oven these 15 Recipe Ideas will have you using your roaster to its full potential.
Frequently Asked Questions
How many minutes per pound do you cook a roast?
| Beef Roast | Pork Roast | Chicken | Turkey |
| --- | --- | --- | --- |
| Rare: Approximately 20-25 minutes per pound at 325°F | Approximately 20-25 minutes per pound at 325°F | A whole chicken generally takes about 20-25 minutes per pound at 350°F | A whole turkey generally takes about 15-20 minutes per pound at 325°F |
| Medium-Rare: Approximately 25-30 minutes per pound at 325°F | | | |
| Medium: Approximately 30-35 minutes per pound at 325°F | | | |
| Well-Done: Approximately 40-45 minutes per pound at 325°F. | | | |
Do roasters cook faster than ovens?
Yes, electric roasters often cook food faster than conventional ovens due to their smaller size and superior heat retention, leading to more efficient and even cooking.
Are you supposed to put water in the bottom of a roaster oven?
No water is needed when using an electric roasting oven unless your recipe requires water or liquid. Always consult your roaster oven's instruction manual before adding liquids.
Can you use a rack in a roaster oven?
Yes, you can use a rack in a roaster oven. It helps with air circulation, allowing the heat to evenly distribute, and the roast to cook uniformly. The rack prevents the roast from sitting in its own juices, promoting better browning.
Use this guide to learn all about baking in a roaster oven.
Wrapping Up
Cooking a roast in a roaster oven can take anywhere between 1.5 – 2 hours for a 3-5 lb roast.
The exact time depends on several factors including the roast's size, type of meat, and your chosen temperature setting. With this guide, you should have a better idea of what to expect when you next cook a roast in an electric roaster.
Just remember, each roast is unique and may require different cooking times. Always use a meat thermometer to ensure your roast is cooked to a safe temperature, and enjoy the process as much as the delicious result!
One-Pot Cooking Rocks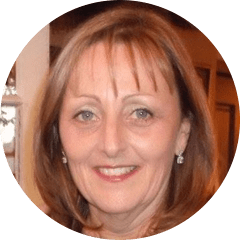 Michelle – Author
Hi, I'm Michelle the founder, owner, author, and editor of OvenSpot. My passion for one-pot cooking commenced when I was working to prepare cafeteria lunches for school students. I am now on a mission to assist you in choosing the cooking pot or appliance you will use every day. As well as in-depth information to assist you in using and caring for your cookware and appliances.
Questions? Reach out to Michelle at [email protected]