What Is a Casserole Crock-Pot?
In these days of unlimited supplies of electrical cooking pots I was recently asked "what is a casserole Crock-Pot?"
A casserole Crock-Pot is a 3.5-quart slow cooker. It has a low-lying rectangle outer casing that measures 11.6 inches x 19 inches and is 6.7 inches high. Its insert is made from stoneware and the glass lid has clips that lock onto the casing making it transportable.
Disclaimer: As an Amazon Associate I earn from qualifying purchases on my website. If you make a purchase through links from this website, I may get a small share of the sale from Amazon and other similar affiliate programs.
What Is a Casserole Crock-Pot?
The image above shows what a casserole Crock-Pot looks like.
The casing of black and white is a lovely piece of art for your kitchen and you will find it a joy to serve family and friends straight from the slow cooker.
The shallower design makes it easier to serve and keep the portions in shape rather than falling apart from a deep cooking pot.
A feature of this rectangular slow cooker is the cook and carry locking lid. This will allow you to prepare a fully cooked meal for transportation.
Then when you arrive at your destination just set the setting for warm until you are ready to serve from the stylish Crock-Pot.
The other alternative is to prepare the meal and cook it when you get to the party or dinner party then utilize the warm setting and lastly serve straight from the Crock-Pot.
The warm setting can keep the meal warm long after the mealtime is over, "seconds anyone" what a great feature to utilize at a gathering.
Features of this Casserole Crock Slow Cooker
This cooker is able to serve 3 plus people (Family)
Manual Low and High cook settings with a convenient warm setting that keeps the meal warm
The product features a glass lid with the Cook and Carry locking system and a stoneware insert
This Crock Pot comes in four colors black and white, charcoal, Navy Blue, and Perfect Plum
Programmable Casserole Crock – Owners Guide (Manual)
Benefits Of the 3.5-Quart Casserole Crock Slow Cooker
This slow cooker has a very practical shape which allows you to prepare lasagnas, Mexican stacks, casseroles, and similar dishes.
Some have commented that the rectangular shape even makes traditional slow-cooked dishes easier to prepare. This is because the ingredients can be spread out and not just stacked on top of one another.
The rectangular slow cooker stoneware insert of the Crock-Pot is also safe for use in a conventional oven.
You will be able to cook your meal in the oven and then place the stoneware in the Crock-Pot casing and set it to a warm setting until you are ready to serve.
Alternatively, cook your meal in the oven and then safely transport the stoneware and casing using the cook and carry locking system to where ever the meal is required.
The Crock-Pot features low and high manual settings which allow you to control the cooking times. The warm setting is beneficial in keeping food at an ideal temperature. There will be times when dinner will have to wait for the day to catch up.
The stoneware doubles as the serving dish. The outer casing only enhances the look of the slow cooker, a piece of art. The carry and lock system will allow you to transport without the worry of spillages mid-trip.
Pros and Cons of this Casserole Crock Slow Cooker
| PROS | CONS |
| --- | --- |
| 3 manual cook settings | Some users complained that the stoneware insert is large and may be difficult for some to wash up in a sink |
| The slow cooker has three settings low, high and warm which keeps food warm to serve | |
| 4 Elegant color choices black and white, charcoal, navy blue, and perfect plum | |
| Glass-domed lid with the cook and carry locking system for safe transportation of meals | |
| 3.5-quart serves 3 plus people | |
| Removable rectangle stoneware which is also conventional oven safe | |
| Dimensions of the Crock-Pot are 9 inches x 13 inches | |
| 24-inch cord length | |
| The removal of the stoneware helps in serving at ease | |
| Elegant outer casing designs and colors are available | |
Customer Reviews
Customers, love this Crock-Pot. The elegant casing is a sure winner and the rectangular oven-safe stoneware insert is well reported upon.
Customers who have purchased this slow cooker generally already have owned a traditional slow cooker.
They concur that they are able to prepare recipes that would not have a satisfactory outcome in the more traditional slow cookers. For example lasagna and some desserts.
What I Think About This Slow Cooker
I would say that overall the Crock-Pot 3.5-Quart Casserole Crock Manual Slow Cooker Black and White is a contender when choosing your new slow cooker.
The unique shape of the stoneware and out casing allows for healthy nutritious and hearty meals to still be prepared in the traditional manner with a slight twist. This allows you to expand your slow cooker recipe library and try some new dishes – all with one pot ease.
So get a little organized, get yourself a great practical new appliance, and keep the family away from the takeaway food.
Crockpot Casserole Slow Cooker Recipes
Because of the unique shape of this slow cooker, it lends itself to a specific kind of recipe. Although this cooking pot will make any slow cooker recipe – 3.5-quart size appropriate that is.
Recipes Suggestions
Slow Cooker Breakfast Casserole
Crock Pot Chicken and Herbed Rice
Crock Pot Mexican Lasagna
Crock Pot Chick Bacon Ranch Pizza Casserole
Slow Cooker Lemon Bars
Slow Cooker Chicken Legs – Creamy Mushroom Rice
Here is the link to an all-time family favorite over at the Crockpot-Website Easy Slow Cooker Pasta Casserole
Should I Buy a Slow Cooker
Well, I am a little biased of course. But yes, you should buy a slow cooker here are a couple of quality reasons why!
healthy meal preparation from fresh ingredients
set and forget cooking – make it in the morning and it will be ready for dinner
various sizes and shapes are available
not an expensive outlay – as far as cooking pots go
What Is a Slow Cooker Insert?
A slow cooker insert is a pot where you will put your ingredients to be cooked by the slow cooker. It then fits inside the out casing of the slow cooker. The outer casing is where the electrical component of a slow cooker is housed.
Crock-Pot Sizes
As with most cooking pots crock pots are available in various sizes from 1-quarts up to over 10 quarts. Check out a helpful size guide here.
To Finish – What Is a Casserole Crock-Pot?
Some may think that this is an unusual and out-of-date type of electric cooker. But for many people and families, it absolutely suits the types of dishes they love to prepare.
There are huge savings on the Crock-Pot 3.5-Quart Casserole Crock Manual Slow Cooker, Black and White, charcoal, navy blue, and perfect plum at Amazon at the moment.
If you have any interest in this unique slow cooker see what others are saying about it at Amazon.
One-Pot Cooking Rocks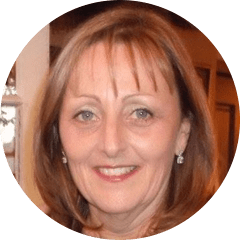 Michelle – Author
Hi, I'm Michelle the founder, owner, author, and editor of OvenSpot. My passion for one-pot cooking commenced when I was working to prepare cafeteria lunches for school students. I am now on a mission to assist you in choosing the cooking pot or appliance you will use every day. As well as in-depth information to assist you in using and caring for your cookware and appliances.
Questions? Reach out to Michelle at michelle@ovenspot.com