10 Vegan Dutch Oven Recipes: #7 Is My Favorite
If you are craving a quick and easy one-pot plant-based meal you have landed on the right page.
These 10 Vegan Dutch oven recipes have been prepared and enjoyed using the original one-pot cooker the Dutch oven. The only problem you will run into is which Vegan Dutch oven recipe you are going to prepare today.
Why is #7 my favorite? When are you know sitting down to a meal is not only in the taste and satisfaction you receive from the dish at that time. Meals taste different when you prepare them yourself.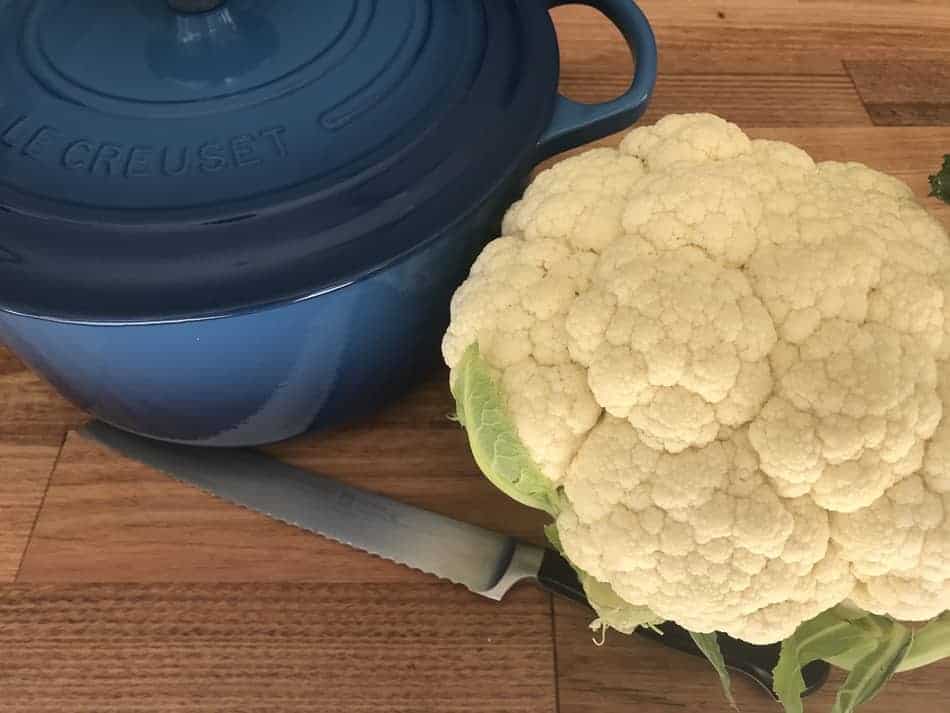 Why you ask – because if you have a tough time making the dish, finding the ingredients, preparing, cooking, and then the almighty cleanup, I believe the dish loses some of its shine.
Recipe number 7 was one of the easiest meals all-inclusive that I have ever made. So when I add the freshest of the ingredients – I believe I have a winner…
Disclaimer: As an Amazon Associate I earn from qualifying purchases on my website. If you make a purchase through links from this website, I may get a small share of the sale from Amazon and other similar affiliate programs.
10 Vegan Dutch Oven Recipes
These Vegan Dutch oven recipes include soup, stews, saute's, and accompaniments. Make them on their own or marry a couple of dishes up.
Feel free to add extra vegetables, pasta, quinoa, or rice. Make sure you adjust your liquid content and cook time for the extra ingredients.
Also, adhere to the manufacturer's instructions when using their cooking pot as there will be a maximum fill line for ingredients and liquids.
1. Easy Vegetable Pasta Soup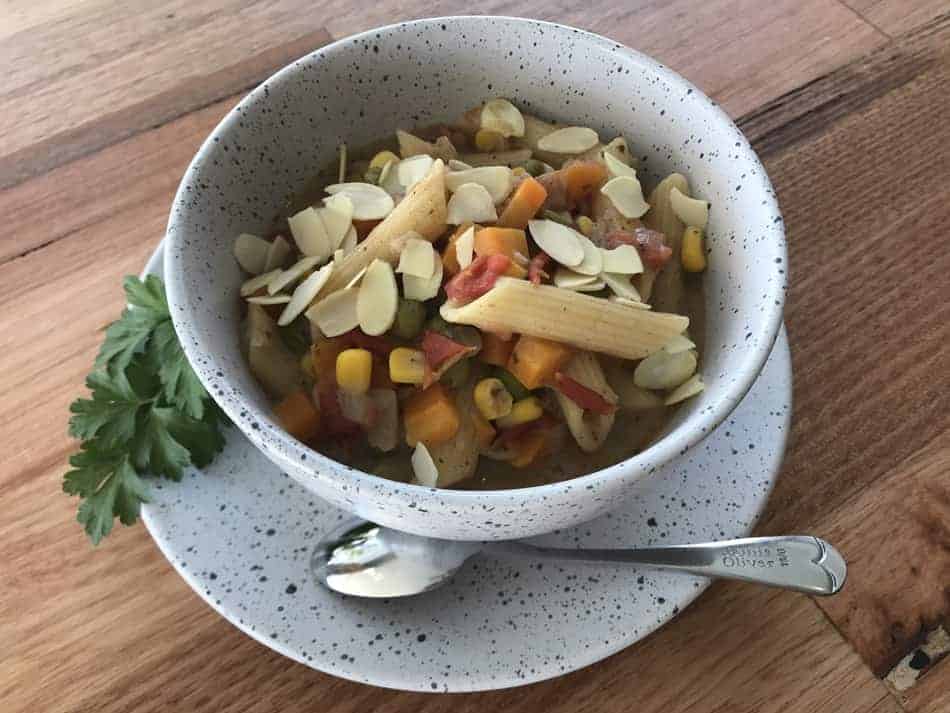 This is a dairy-free vegetable soup that is really creamy and simple to make. It tastes so creamy it is almost a casserole and not a soup.
You could easily turn this soup into a quick casserole by adding some extra vegetables.
A quick prep time of 10 minutes and a total cooking time of 30 minutes will see you sitting in front of this delicious easy vegetable pasta soup in under 40 minutes.
See the full recipe here.
2. Tuscan White Bean Soup
I love this quick and easy Vegan Tuscan white bean soup infused with fresh Meditrainian flavors that will satisfy even the pickiest of eaters.
Prepared of course all in one pot, a Dutch oven, for a very quick meal.
Consider adding pasta to make it a fuller meal – delicious…
See the full recipe here.
3. Zesty Turmeric Lentil Rice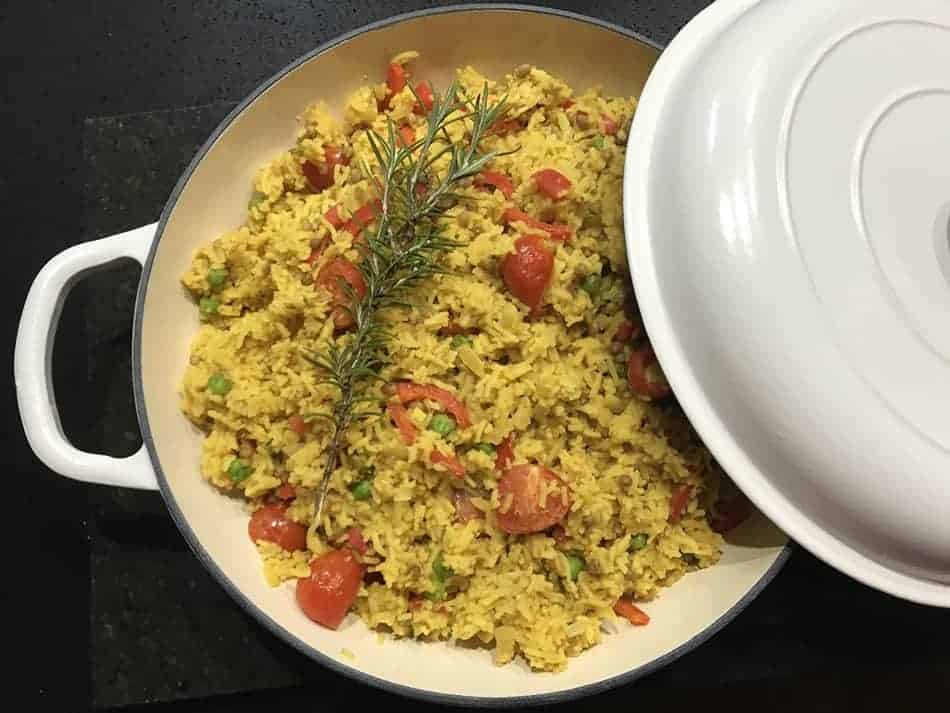 This yummy zesty Tumeric lentil rice is a quick and easy Vegan dish. As well as Turmeric the dish is flavored with cardamom, cumin, and is enhanced with lime to give it a fresh zesty citrus finish.
Can be served hot or cold in under 30 minutes. Also as a full meal or an accompaniment.
See the full recipe here.
4. Squash Zucchini Mushroom Saute'
I served this Vegan squash zucchini mushroom Saute' with the zesty Tumeric lentil rice dish outlined above. To say they complemented each other is an understatement.
We also enjoyed thick crusty bread with the meal – JOY!
See the full recipe here.
5. Semolina Carrot Broccoli Mushroom
The base of this dish is, of course, Semolina but there is also a creamy twist with the secret creamy ingredient almond butter.
You will be eating this dish in under 40 minutes. Once again this Semolina dish is filling enough to eat on its own hot or cold, but it is also a great accompaniment.
See the full recipe here.
6. Vegan Beet Borscht Soup
Built on a base of mushrooms, cabbage, beetroot, and potatoes. Vegan beet Borscht soup is quick and easy to prepare and as with other soup dishes, you can try serving this soup over pasta or rice.
See the full recipe here.
7. Mushroom Cherry Tomato Pasta
Why is this Mushroom cherry tomato pasta – Dutch oven style my favorite?
Well not only was it fast to prepare and cook it is light and fresh smelling as well as tasting. Also, you absolutely cannot ruin this dish.
I guarantee you will be craving this dish and it will become a staple when planning your weekly menu.
See the full recipe here.
Update: I have since made this dish again. If filled the dish out by adding 1 cup of zucchini and 1 cup of yellow squash. Delicious!
8. Vegan Creamy Green Soup
My Vegan creamy green soup is a non-dairy version of the popular basic green soup recipe. You can tell by looking at the image that it is a full-bodied soup when preparing this recipe.
When you add other ingredients you can really turn this soup into something special. Extra steamed vegetables (leaving them whole), pasta, quinoa, and rice.
See the full recipe here.
9. Spicy Rice Stuffed Bell Peppers

This stuffed bell pepper recipe is quick and easy to prepare. You will be sitting down for this meal within 1 hour.
The bell peppers work well as a main dish but you can also use them as an accompaniment to enhance another of your favorite meals.
See the full recipe here.
10. Cauliflower Celery Mushroom Soup
All in one pot for a quick, easy Vegan cauliflower celery and mushroom soup with a creamy almond base. Yum!
4 people will be enjoying this delicious soup in under 40 minutes.
See the full recipe here.
Related read 15 Ways to Thicken Vegan Recipes | Go Dairy Free
Go here to see more Vegan recipes.
What Can Be Cooked in a Dutch Oven?
Braising, sauteing, frying, soups, stews, pasta, rice, and sauces. Let's not forget breakfasts, baking treats, and bread.
Cast-iron Dutch ovens are the most versatile and time-proven cooking pots you can own.
Can You Fry in a Dutch Oven?
Frying requires hot oil that can maintain an even heat and there is no better pot than a cast-iron Dutch oven that performs this task naturally.
So YES you can shallow or deep fry in a Dutch oven – no messy electric deep-frying appliance required.
Can I Use a Cast Iron Skillet Instead of a Dutch Oven?
You can for many recipes. Such as lasagne, risotto, frying foods, and baking. The recipes you choose to cook in a skillet instead of a Dutch oven cannot have a large amount of liquid as the sides of the skillet are too low.
Check out this article I prepared all about using a skillet instead of a Dutch oven.
What to Use If You Do Not Have a Dutch Oven?
I have compiled a list of Dutch oven alternatives you can use if you do not have a Dutch oven. As long as the lid has a tight fit to keep steam inside the cooking pot or appliance you can adjust Dutch oven recipes to suit the cooker.
Check out this article Dutch oven substitutes
Why Is Cooking in a Dutch Oven Better?
Taste tests after have been carried out using a Dutch oven, slow cooker, and pressure cooker the Dutch oven always comes out the winner.
A cooking pot with a heavy self-sealing, self-basting lid is different from the other two cookers. Sealing in the goodness while cooking and thickening the dish with the ingredient's own flavors.
The ability to be used on various heat sources outside and inside a conventional oven.
The Dutch oven is a kitchen must-have…
To Finish – 10 Vegan Dutch Oven Recipes
I sincerely hope you enjoy some of my favorite one-pot vegan and vegetarian recipes all prepared in my Le Creuset 5 1/5 quart Dutch oven (pictured above) just like this one.
One-Pot Cooking Rocks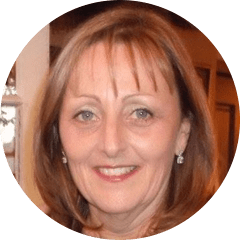 Michelle – Author
Hi, I'm Michelle the founder, owner, author, and editor of OvenSpot. My passion for one-pot cooking commenced when I was working to prepare cafeteria lunches for school students. I am now on a mission to assist you in choosing the cooking pot or appliance you will use every day. As well as in-depth information to assist you in using and caring for your cookware and appliances.
Questions? Reach out to Michelle at [email protected]